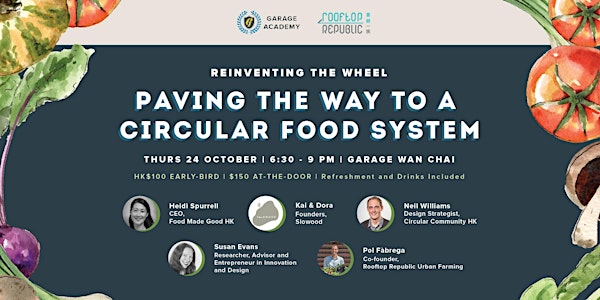 Reinventing The Wheel: Paving The Way To A Circular Food System
Bring together the collective passion and experience of practitioners within the food industry。
When and where
Location
Garage Academy 4F Beverley House 93-107 Lockhart Road Wan Chai, HKI Hong Kong
Refund Policy
Contact the organiser to request a refund.
About this event
Today's industrialised food system is a major contributor to climate change, widespread environmental damage, and generates huge wastage. However, with an awakening consciousness around minimising one's impact and environmental footprint, the concept of a circular economy has huge promise for both consumers and businesses alike to reverse and mitigate the downward spiral towards irreversible damage.
As a launch event for our new season of the Garage Greens Urban Farming Experience at Garage Academy, a knowledge-sharing platform of Garage Society with a mission to nurture the leaders of the new generation workforce. We want to bring together the collective passion and experience of practitioners within the food industry, across the different stages of the food cycle and to explore and investigate the challenges and solutions towards creating a more circular lifestyle around food.
What to expect
A sharing session from all our partners commenced by an hour-long workshop session, followed by a networking mix & mingle with light food & beverages with featured ingredients from our very own urban garden!
Speakers
Kai & Dona, Slowood
Kai and Dona founded Slowood, the company that endeavour to explore with customers a genuinely sustainable lifestyle, to redefine what a genuinely organic way of living is made of, and to learn and grow as Slowood take every baby step forward.
Heidi Spurrell, Food Made Good HK
Heidi's work in food policy with London and Amsterdam-based sustainability NGOs allows her to offer a global perspective to Hong Kong's dining scene as she ambitiously gears towards driving sustainability as the norm in the F&B industry.
Neil Williams, Circular Community HK
Expert in design strategies and a sustainability advocate, Neil is an experienced facilitator who loves placing people, their emotions and activities at the centre of any design process.
Susan Evans, Researcher, Advisor and Entrepreneur in Innovation and Design
Susan is a researcher, advisor and entrepreneur in innovation and design. Her vision, practice and research are focused on the creation of new regenerative eco-systems that can drive next-economy business and society.
Pol Fàbrega, Co-Founder of Rooftop Republic
Originally from Barcelona, Pol started his career in the nonprofit sector working on a wide range of issues, from human trafficking, to education, to human rights. In 2012, he relocated to Hong Kong, where he has been pioneering the urban farming movement and working to help transform the way we grow, consume and think about food. Pol is an awardee of Hong Kong Tatler's Generation T 2018 List and The Green Is The New Black 2018 Green Warriors.
About Rooftop Republic
Rooftop Republic's team has been pioneering the urban farming movement over the last five years. Our vision is to revolutionise the food system and transform the relationship people have with their food. We are a truly multi-disciplinary team and we collaborate with architects, engineers, organic farmers, chefs and nutritionists to develop and deliver urban farming solutions.
About Garage Academy
Garage Academy is Garage Society's knowledge-sharing platform with a mission to nurture the leaders of the new generation workforce through a wide curation of classes, workshops and community events rooted in innovation and emerging technologies.
Join our digital community Garage Commons now to connect with fellow entrepreneurial minds, build your personal & professional skill set, and innovate & grow your business!