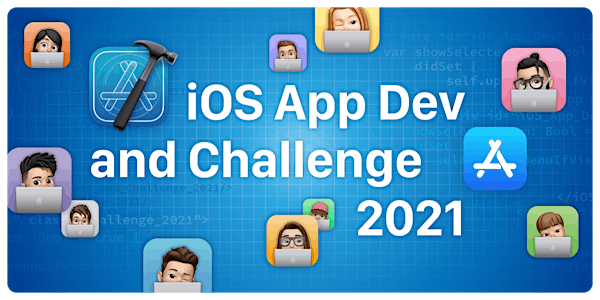 Registration for iOS App Dev and Challenge 2021
Aim to introducing new learning contents to stimulate students' awareness how innovation technology help social problems.
About this event
iOS App Dev and Challenge 2021
The iOS App Dev and Challenge aiming to promote the reform of teaching content and teaching methods of computer courses in colleges and universities, to stimulate student's awareness of innovation, to improve students' analysing and problem solving skills. Students from all colleges and universities are encouraged to form teams with innovative and creative ideas for solving social problems. Students are encouraged to design and develop applications with iOS system for Apple products.
The theme of "iOS App Dev and Challenge 2021" will be focused on Augmented Reality (AR), health/wealth being, environment and accessibility. The contest will select the top three finalists and continue to participate in the regional final "2021 APP Mobile Application Innovation" held by Zhejiang University in Greater China to compete with teams from China, Taiwan, Singapore and Malaysia, to achieve the greatest award. The final winner of the contest will be invited to the annual WWDC Apple World Wide Developer Conference. We sincerely invite teachers and students from all Higher Education Institutions to form an inter-disciplinary, and multinational team to participate in the largest App competition in the region, demonstrate excellent capabilities of Hong Kong representatives and learn more through exchanges and mutual learning with local teams. The programmers are glowing on the international stage!
The selection will be based on the criteria set in the China contest:
The basic function and operation of the iOS App (30 points).

The innovative ideas and unique feature (40 points).

The meaningful design concept and value (20 points).

The completeness and quality (10 points).
Further support the students' creative ideas, the selected team will participate a 4-day App Dev Student Summer Camp from 19 August 2021 and to compete with other regional teams at the China and the China Mobile Application Innovation Contest in October 2021 at Zhejiang University China. The wining team in China Mobile Application Innovation Contest will directly gain the scholarship to WWDC in June 2022.
On the day of selection, participants are required to conduct a 30-min presentation to introduce their design concept and the function of the App. Participants are also required to prepare sample Apps pre-installed on devices or some mock-up version of Apps for judges to test on it.