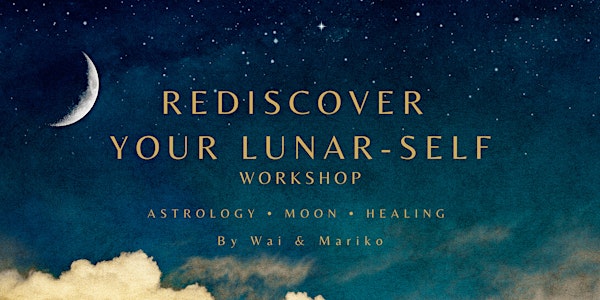 Rediscover Your Lunar-Self - Workshop in Hong Kong
Join a journey to rediscover our wholeness through Astrology, Moon and Self-Healing.
When and where
Location
MAITRI ASIA Limited 1306 Loon Kee Building 267 - 275 Des Voeux Road Central Sheung Wan, HKI Hong Kong
Refund Policy
Contact the organiser to request a refund.
About this event
OUR PURPOSE & OVERVIEW OF THE WORKSHOP
We are a society of multitaskers—overscheduled, overextended, and often overwhelmed. In this fast paced world, our culture does not honor the lunar, the feminine, Yin, the night consciousness. We don't receive a lot of support for slowing down, going inside, and listening to those subtle impulses. But paying attention to our lunar self is exactly what we need to do to become whole.
Our goal for this workshop is to provide tools that we can use for self-care. In astrology the Moon represents our intuitive, emotional self. Taking care of the Moon in ourselves is the same as taking care of our hearts and souls. When we look closer, we have the secret of happiness. But unraveling the Moon's guiding message requires that we let go of the strictures of reason and instead learn how to hear this mysterious, non-linear Lunar language. "Being in touch with our feelings" is part of it, but only one part. Creativity, dreams, intuition, healing (and being healed) — these are all lunar topics too.
In this interactive workshop, we explore the dynamic, multi-dimensional nature of our intuitive self, basic steps of Qi-Gong movement which can be practiced along with the Lunar Cycles as well as ancient self-healing methods such as Ayurveda, TCM and Reflexology.
Though this talk uses the language of astrology, you don't need an astrological background.
Class will be conducted in English (FYI: Your workshop guides are Cantonese & Japanese native speakers)
Join the journey to rediscover our wholeness.
OBJECTIVES
Learn & Cultivate knowledge about the importance of the Moon.
Essential tips for self-care and emotional health.
WHO SHOULD ATTEND THIS CLASS?
Curious individuals who are interested in knowing yourself, learn how to follow the path of heart wisdom and live a more balanced life.
Communicators/teachers who want to create a better understanding and connection with others.
Gardeners and farmers - strategic seeding and planning according to the rhythm of the Moon
Yogi / Qi Gonger / Health conscious folks who want to strengthen your mind body connection.
HOW TO PREPARE FOR THIS WORKSHOP?
Bring a pen and paper or your favourite notebook.
Dress in comfortable clothing that allows physical movement.
An open mind.
WHAT WILL YOU GET OUT OF THE WORKSHOP?
Insights about your intuition.
Tips and tools to work with your emotions.
Understand the flow of the lunar wisdom and implement your plans accordingly.
A PDF lunar workbook
A locally made probiotic Kefier drink and a nourishing snack will be provided during the workshop.
Connecting with others, and fun.
PRICE:
Standard: $680
Early Bird [Before September 26, 2021]: Sales Ended
Sign Up:
Eventbrite platform
Direct purchase (Wai/Mariko)
Date and time and location:
11am - 1pm, Saturday October 2, 2021. Registration starts at 10:45am.
Unit 06, 13th Floor, Loon Kee Building, 267 - 275 Des Voeux Road Central, Sheung Wan, Hong Kong
Cancellation Policy
Unless T8 or emergency orders by the HK government occur, cancellations by participants less than 5 days from the date of the event are subject to full charge (no refund).
No Show-Up Policy
Subject to full charge (no refund)
ーーーーー
About Your Lunar Guides
Wai Yu Lam
hello@thisiswai.com
Wai is an international consulting astrologer. She provides a safe, engaging, and non-judgmental environment in the consultation.
She believes that astrology can bring profound change and meaning to our lives. She uses astrology as a tool for self understanding and acceptance. While Wai doesn't predict the future, a reading with her can be insightful and transformative.
For this class, Wai will share some simple tools for working with our intuition and how to use our emotions as a guide to improve our EQ and health.
-------------
Mariko Hiyama
hello@maitriasia.com
Mariko is originally from Fukuoka, Japan. She has been working with the world's top wellness resorts and healing clinics all over the world as a Facial Reflexologist. Her approach to well-being and healing is gentle and caring, yet deep enough to feel changes in your body & mind. She also has many years of experiences in guiding people for better physical & emotional conditions through Qi Gong and Yoga.
Mariko is a founder of MAITRI ASIA Ltd in Hong Kong and curates various Well-Being programs.
On this occasion, she will share her deep knowledge in traditional/ancient healing methods combined with Wai's insightful Moon & Astrology teaching.
Any questions, please do not hesitate to contact us!
Whatsapp: +852 63913566
We look forward to welcoming you!