Recruitment of Members for the Year 2016 - 2017
Sales Have Ended
Ticket sales have ended
Please contact your PTA Office at 2104-2426 for further inquiry, thank you.
Sales Have Ended
Ticket sales have ended
Please contact your PTA Office at 2104-2426 for further inquiry, thank you.
Description
Dear Parents,
On behalf of the Victoria Nursery & Kindergarten Parent-Teacher Association ("PTA"), I would like to extend a very warm welcome to you and your child to the family of Victoria Educational Organisation.
The PTA, founded in 1996, provides a valuable link between families and the school. With the dedication of the executive committee members and the continuous support from parents, the PTA has organized a variety of activities and seminars, which enhanced our parenting knowledge and our parent-child relationship. These activities have been well received by parents and children! Moreover, we facilitate parents in making new friends with parents of different campuses, exchanging and enhancing their knowledge in education and child-raising. This academic year, we have prepared different amazing activities, awaiting you to join.
We sincerely invite you to join the PTA and to enjoy the exclusive privileges available to its members. Even better, if you have the passion in organising different kinds of activities for the Victoria family, please consider to be one of the committee members of the Executive Committee. Please note that you are requested to finish the said process by Thursday, 15th September 2016. Thank you for your attention!
Since this academic year, we are going to launch an e-system - parents are informed about our latest activities via email and are encouraged to enroll and submit payment online through our website (http://pta.victoria.edu.hk/). We are looking forward to your support on it!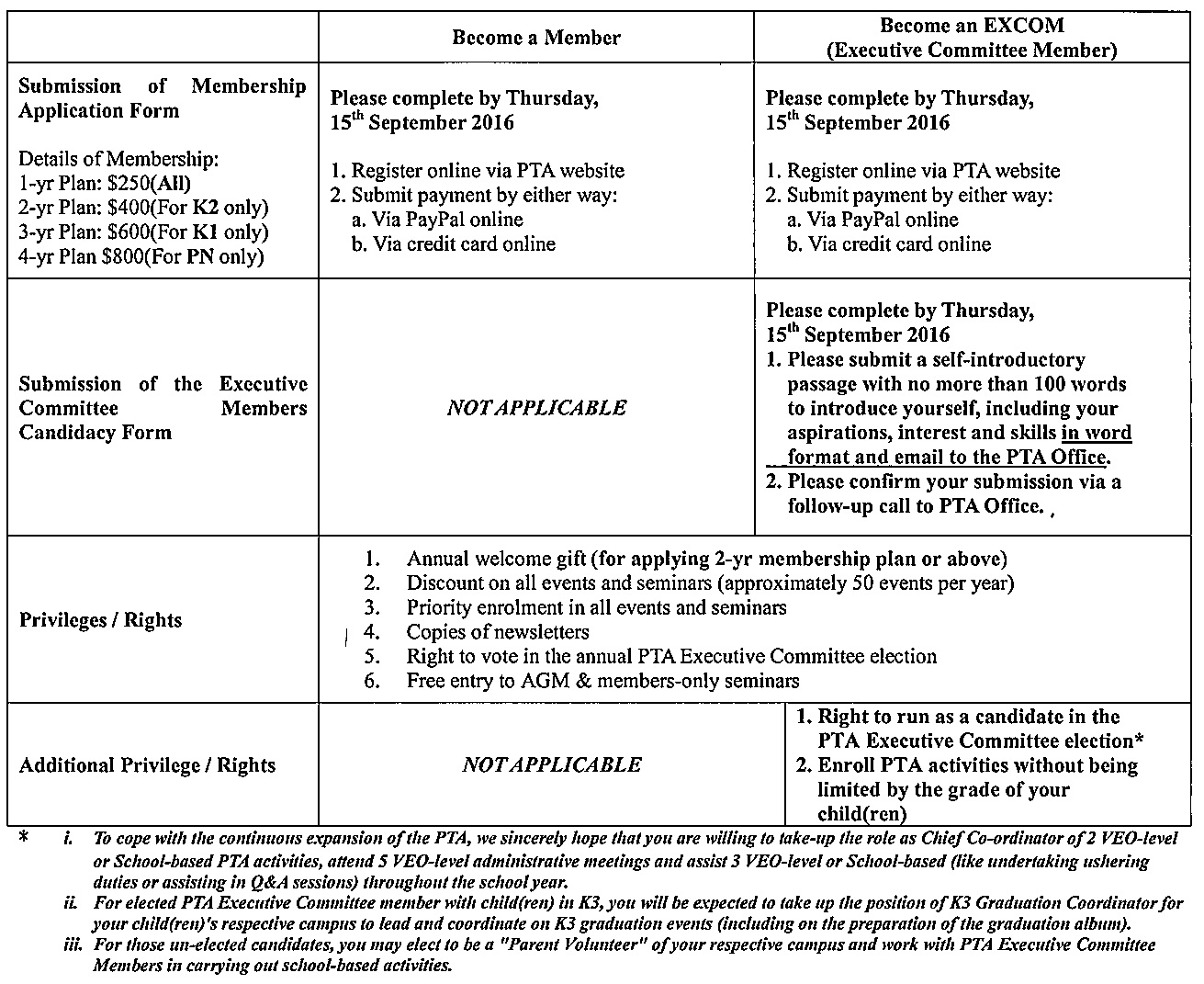 On the other hand, the 21st Annual General Meeting (AGM) of the PTA is to be held on October 31, 2016, 7:00pm - 10:00pm at Congregation House (119 Leighton Road, Causeway Bay, HK). Details will be advised in due course.
Should you have any queries, please do not hesitate to contact Miss Caroline Sun of the PTA Office at 2104-2426 or by email at ptaoffc@victoria.edu.hk.
Again, thank you for your support. We look forward to seeing you in future PTA events.
Victoria Nursery & Kindergarten Parent-Teacher Associatioin