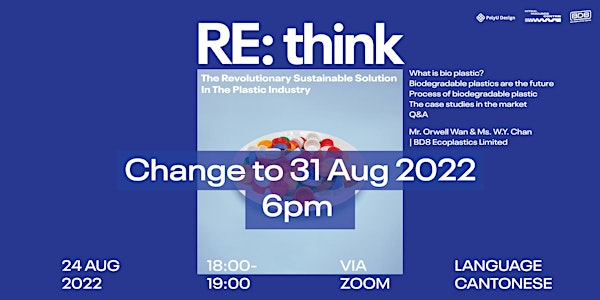 RE: think-The Revolutionary Sustainable Solution In The Plastic Industry
RE: think-The Revolutionary Sustainable Solution In The Plastic Industry | BD8 Ecoplastics Limited
About this event
𝐑𝐄: 𝐭𝐡𝐢𝐧𝐤 - 𝐓𝐡𝐞 𝐫𝐞𝐯𝐨𝐥𝐮𝐭𝐢𝐨𝐧𝐚𝐫𝐲 𝐬𝐮𝐬𝐭𝐚𝐢𝐧𝐚𝐛𝐥𝐞 𝐬𝐨𝐥𝐮𝐭𝐢𝐨𝐧 𝐢𝐧 𝐭𝐡𝐞 𝐩𝐥𝐚𝐬𝐭𝐢𝐜 𝐢𝐧𝐝𝐮𝐬𝐭𝐫𝐲 | 𝐁𝐃𝟖 𝐄𝐜𝐨𝐩𝐥𝐚𝐬𝐭𝐢𝐜𝐬 𝐋𝐢𝐦𝐢𝐭𝐞𝐝
BD8 – 本地生物塑料先鋒,開創塑膠分解新方法
香港生物塑料生產商BD8,專門研發可以在堆填區自然分解的塑膠原料。這次物料講座中將會講解生物塑料的特點,以及和其他市面上不同類型的生物降解產品的分別。除此以外,BD8亦會簡述社會中常見的環保方案,並以企業角度分析可持續發展在市場策略中實行的利弊,說明生物塑料未來的可能性。講座內容豐富,歡迎有興趣人士報名參與!
Hong Kong plastic manufacturer BD8, which revolutionized bioplastic, specializes in the research and development of biodegradable biopolymers. The aim of this material talk is to introduce the audience to the signature characteristics of bioplastics, and the broad range of different biodegradable products available on the market. Apart from briefing viewers on the various common green policies and proposals, BD8 will explain the merits and disadvantages of common sustainable solutions. The presenter will also look into the possibility of potential opportunities involved with bioplastics, the feasibility of implementing sustainable marketing strategies, and why it is double-edged from the perspective of an enterprise. Register now and become part of our material talk!
𝐂𝐎𝐍𝐓𝐄𝐍𝐓 | 內容
What is bioplastic?
Biodegradable plastics are the future
Process of biodegradable plastic
The case studies in the market
Q&A
 𝐃𝐀𝐓𝐄 | 日期
24 AUG 2022 (WED) ---> Change to 31 AUG 2022 (WED)
𝐓𝐈𝐌𝐄 | 時間
18:00-19:00 (HKT)
𝐕𝐄𝐍𝐔𝐄 | 場地
ONLINE VIA ZOOM
The Zoom details will send out by email two days in advance.
𝐋𝐀𝐍𝐆𝐔𝐀𝐆𝐄 | 語言
Cantonese | 廣東話
𝐏𝐑𝐄𝐒𝐄𝐍𝐓𝐄𝐃 & 𝐎𝐑𝐆𝐀𝐍𝐈𝐒𝐄𝐃 | 主辦
Material Resource Centre, BD8 Ecoplastics Limited.
𝐒𝐏𝐄𝐀𝐊𝐄𝐑|講者
Mr. Orwell Wan & Ms. W.Y. Chan | BD8 Ecoplastics Limited.
𝐌𝐎𝐃𝐄𝐑𝐀𝐓𝐎𝐑 | 主持人
Man Tsang | Officer of Material Resource Centre, SD 
 #hkpolyumrc #sdmrc #polyudesign #BD8 #trend #bioplastic #biodegradable #sustinable #material #ecomaterial