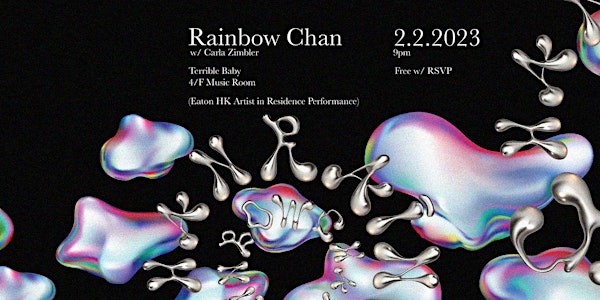 Rainbow Chan ft. Carla Zimbler *live* (Artist in Residence Performance)
Rainbow Chan featuring live visuals by Carla Zimbler The two artist take residence at Eaton HK this winter.
When and where
Location
Terrible Baby, Music Room 4/F Eaton HK, 380 Nathan Road Hong Kong, KOW Hong Kong
About this event
1 hour 30 minutes

Mobile eTicket
The two artist take residence at Eaton HK this winter in support of Rainbow Chan's cross-cultural and inter-generational project, The Bridal Lament. The Bridal Lament is an ambitious new performance work and a concept album, specially co-commissioned by Performance Space and Contemporary Asian Australian Performance. The project draws upon my identity as an Asian-Australian woman with Weitou ancestry (first settlers of Hong Kong). The project reimagines a Weitou ritual, known as bridal laments, as an experimental multi-artform performance through original music, 3D visuals, live projections and movement. Set to premiere at 2023 Liveworks Festival at Sydney's Carriageworks, TBL offers an intergenerational and cross-cultural perspective on diasporic experiences in Australia and the complex history of Hong Kong.
Creative Rationale (in the artist's words) :
My interest in Weitou culture begins with my mum, a Weitou woman whose roots can be traced back to Hong Kong's first clan. Literally meaning "walled village", Weitou has been stereotyped as lower class and uneducated by mainstream Hong Kong. However, I want to challenge this and highlight the rich traditions of Weitou people's agrarian lifestyle. In times of upheaval, Weitou women's history offers an alternate voice to dominant conversations about identity, belonging and place in the region.
As a visual artist, Carla Zimbler bends light across interior/exterior architecture and soaks sculptural forms in vivid textures as a live performative experience. Her site-specific installations shift orientation and perspective to redefine spatial boundaries and transcend the everyday, kindling desire for otherworldly places of belonging. Carla invites audiences to examine abstract ephemera and contemplate the intricacies of the micro/macro and cosmic worlds we exist in.
Utilising creative technology and generative software to explore luminous phenomena, bodies are drawn into immersive spaces where sound-responsive visuals expand, burst and dissolve. These intimate, experiential worlds explore concepts regarding emotional connectedness, symbiosis, metaphorical lightness/darkness and other contrasting dualities.
Entry is free w/ RSVP ; doors open at 9pm.