Quantum Healing Qigong is sets of simple or gentle movements or exercises. It's a holistic work that works on our full being deeply on physi
About this event
ABOUT QUANTUM QI GONG MEDITATION:
Improve your DNA to pass to our next generation
Strengthen your body and mind with ancient wisdom.
​​Quantum Healing Qigong is sets of simple or gentle movements or exercises. It's a holistic work that works on our full being deeply on physical and quantum physics level.
Benefits
Trains our physical body to be more fit and healthy
Calms our emotions.
Strengthens our energy(Qi) to do all the magical powers including enhancing our circulations, promote organs health, strengthen the immune system, facilitate detox
Activate self heal
Initiate anti ageing process
ABOUT LAWRENCE TSE:
Master Lawrence Tse is one of the most experienced Qigong teachers and healers in Hong Kong and he has been helping people on health issues for many years. This simple yet effective series is suitable for beginners as well as more advanced Qigong practitioners.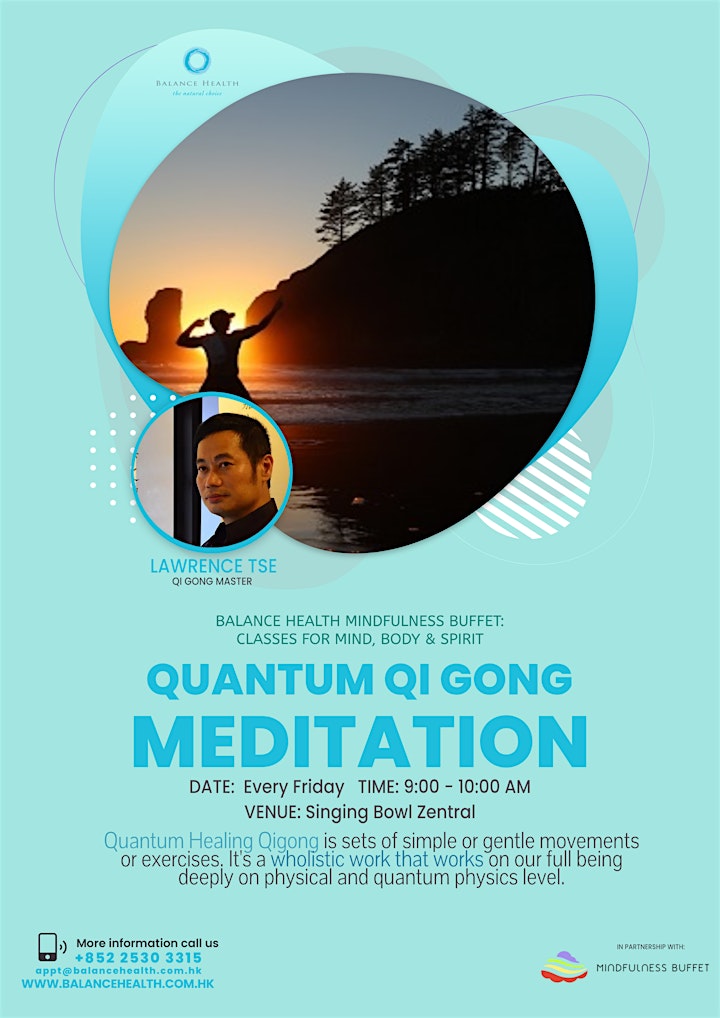 Organiser of Quantum Qi Gong
Balance Health is a natural health clinic offering an alternative to the conventional treatments, as no single system of medicine has the answers to every medical problem. As one of Hong Kong's earliest natural alternative clinics, Balance Health has supported thousands achieving health and well-being in body, mind, emotions and spirit.
By integrating the principles of conventional and complementary medicine our international team of therapists is able to take a broader view – lifestyle, nutrition, emotions, behaviour patterns, and beliefs. Health and wellness is more than simply the absence of pain. Balance Health offers alternative therapies to provide the body with the opportunity to heal naturally, making it stronger and less susceptible to illness and disease.
Whether you have health issues and want to facilitate your healing process or are just looking for a moment to escape your busy life: We connect you to practitioners to offer treatments tailored to your individual wishes and needs.