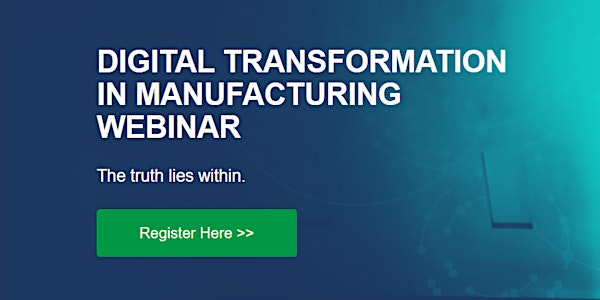 Qlik Digital Transformation in Manufacturing On-Demand Webinar
When and where
Location
Hong Kong Island Hong Kong
Description
Get an inside look at top strategies for using data to transform manufacturing.
Hello, future. We've been expecting you.
When disruption is nonstop, how do you compete ― and thrive? Digital Transformation is a must, and data is at the heart of it. To pull ahead of the pack, stay in front of the trends, and keep pushing innovation further, you have to consistently reinvent your business ― fast ― with a modern approach to data.

How are your peers succeeding? What role do AI, machine learning, and data literacy play in their transformation journey? Where will emerging trends take us next?

Our partner Qlik® presents The DX Files ― a webinar series exploring the most successful ways that manufacturing businesses are using data to transform operations, processes, and outcomes. You'll get the big picture from Forrester, and analytics experts from Hewlett Packard, Lennox International, Cognizant, and Volvo will reveal how they're unlocking transformative insights.

Find out how these leading organizations are navigating industry trends, leveraging insights to improve outcomes, using emerging technologies such as AI, working to increase data literacy in their workforces, and shifting to a data-driven culture.

We invite you to unlock the mysteries of Digital Transformation.

Details of the On-Demand Webinar:
Date: On-Demand
Time: On-Demand
Registration Link: To register directly, please register here - https://sites.ziftsolutions.com/qlik.ziftsolutions.com/8a9982a86f62f4ed016f65c8260e1e7a or a representative will register on your behalf shortly.
Cost: Free.
Please note this webinar will be presented in English.