About this Event
New to coding? Learn the basic of Python in 4 weeks! You will be able to build your own program.
We are holding a Python course for absolute beginners, starting on 16 February.
No prior knowledge in programming is required.
-
PYTHON FOR BEGINNERS
Start date: 16 February, 2019. (Saturdays)
Time: 9:00 - 13:00
Course duration: 4 weeks
Venue: Central
Course fee: 5,800 HKD
Payment details will be sent by email once the application is being received.
-
The course covers the basic of python programming, including variables, functions, loops and some basic libraries. At the end of the course, you will need to complete a project of your own and a final exam to get the certificate.
We are offering our Python for Beginners and Machine Learning course in a bundle deal package. Chat with us at https://www.codefor.hk/ or contact us at helloworld@codefor.hk / 5744 0099 for more details.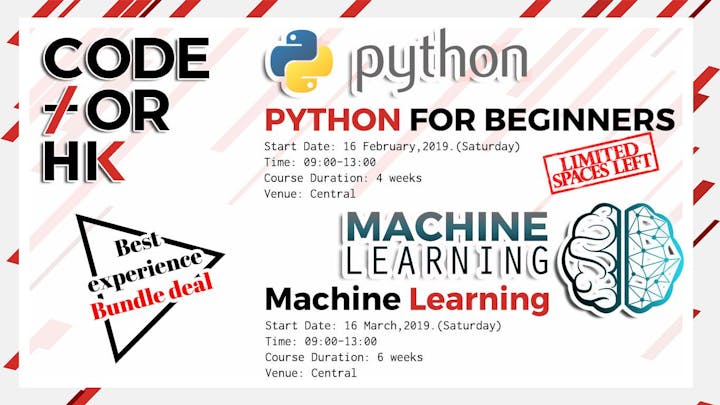 Apply and start your coding journey with us now :)
Code For Hong Kong