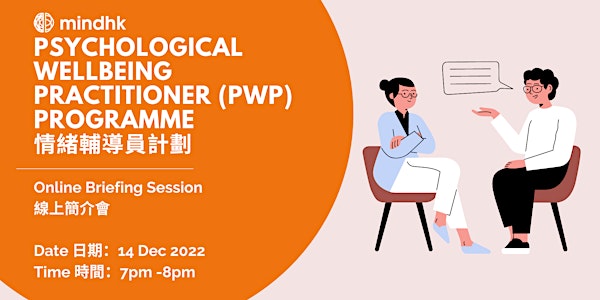 Psychological Wellbeing Practitioner (PWP) programme: Briefing Session
Do you want to learn more about the training block and placement opportunity of our Psychological Wellbeing Practitioner (PWP) programme?
About this event
Learn how to become a Psychological Wellbeing Practitioner
Mind HK is pleased to announce the launch of its Psychological Wellbeing Practitioner (PWP) training programme. The programme is a continuation of Mind HK's existing youth wellbeing practitioner programme, with the aim to extend early mental health support to adults. The programme is a comprehensive, 11-month training course, and PWPs will be trained to provide mental health support to individuals aged 18 and above, who are facing mild to moderate common mental problems, including depression and anxiety, in Hong Kong.
We will be training a new cohort of practitioners and we are now accepting applications.
Join us for our PWP applicant information session, which will include an introduction to the programme training and placement details, and details on the application process, followed by Q&A. The information session is open to all existing and potential applicants who are interested in applying for the PWP training programme.
Thank you to the Kadoorie Charitable Foundation and the Hemera Foundation for funding this project.
Session details below:
Date: Wednesday 14 December 2022
Time: 7:00 pm – 8:00 pm
Platform: Zoom (link will be shared closer to the time)
Language: English
Cost: Free