About this Event
PSS2019 CONFERENCE THEME
"Growing in the Age of Risk and Leading with Digital Transformation"
China's economy growth is slowing down, and the increment is limited.Enterprises are transforming into producing high-value product.Procurement is shifting focus to strategic cost management and value chain optimization.
The globalization of supply chain is increasing. In the face of trade wars, the loss of cost advantage, and the relocation of supplier networks, procurement need to make flexible adjustments in a short time. Digitization is changing the traditional business model and industry situation.
Chinese consumers are upgrading their consumption habits, which is accelerating the journey to consumer-driven supply chain. That gives a strong push towards procurement specialization and focus on service. Enterprises must keep flexible and efficient in this increasingly competitive world.
PSS2019 will bring together 300+ procurement executives from different industries to Shanghai and discuss the latest trends, challenges, best practices. Don't miss out the big gathering!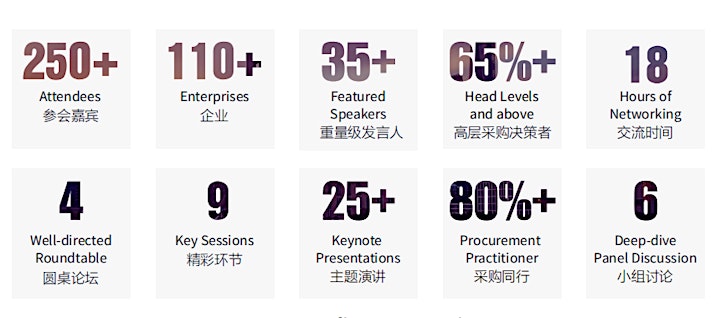 Hotspots May Be of Your Interest
• The Strategic Role of Procurement and Aligning Business Priorities
• Enhance Cost Reduction and Optimization
• Strategic Sourcing at the Global Scale
• Application of Digital Procurement such as AI, Cloud Services, Big Data, Block Chain
• New Members to Grow – Meet with the Millennial
• Implementation of e-Procurement Process e.g.: Procure-to-Pay / Source-to Contract
• Moving Forward to 2025 – Procurement Future
• Risk Management under Circumstances of Trade Disputes, Rising Geopolitical Factors and Increasing Nature Disasters
• CRS and Sustainable Sourcing
• Supply Chain Transparency in Information and Process
• Implementing a Scorecard to Measure your Performance
• Leadership and Team Building in Cross-Functional Team

PSS is...
Professional and Well-Organized
Valuable and distinguished sharing from strategists and innovators that can refresh your mind and elaborate your procurement capacity.
"Well run event; well organized. Good to meet colleagues in procurement industry and hear what the latest trends and authorities are in supply chain." —— Emerson, Director of Procurement
Interactive and Interesting
You will find your place here to connect in forms of diverse breakout sessions, roundtable discussion, networking break... that can be enlightened not only from speeches but also from talking and discussing.
"Very informative event, gather difference countries procurement folks from different field, sharing own experiences and roundtable discussion express our point of view and sharing some idea how to improve in procurement process."—— MetLife Malaysia, Head of Procurement
PSS Has Won Great Reputations Among Worldwide Clients
"It was great to meet all of you, and I learnt a lot of each company's operation and new strategy of future sourcing. Anyway, it's interesting and meaningful for me. Thanks for your team's effort to have a successful summit. Hope it's getting better and better! " Sound United, Category Sourcing Manager - Asia
"This is a great summit! A lot of valuable information. Thank you for inviting us." Johnson & Johnson, Sr. Director for R&D procurement
"It was a great event with superb organization." Takeda, VP Procurement Emerging Markets
"One of the best summits I have attended! Appropriate themes, relevant presentations bases on the audience, which is critical and often missed." VF, Director Global Material Supply – Asia
"It's my pleasure to join the great summit! The topics and communication in the summit are very helpful." McCormick, VP SCM
"It's my honor to be part of the summit. Congratulations to you and Beverf for a successful summit. Great speakers and awesome contents. I enjoyed all the sessions." Pfizer, Senior Director, Global Procurement
"I really enjoy the 2 days conference. Thanks for those people present the ideas, share their stories and knowledge. Very helpful." Ford, Senior Purchasing Manager
2 Pre-conference Workshop are designed to Improve your Procurement Performance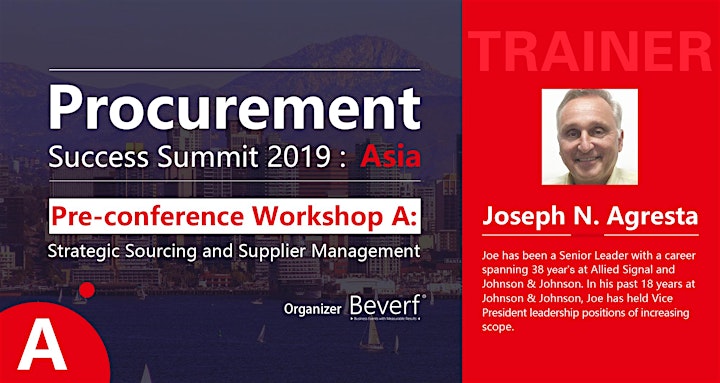 Workshop A: Strategic Sourcing and Supplier Management
Trainer: Mr. Joseph Agresta
Date: Oct 28-29, 2019
Retired as former VP procurement of Johnson and Johnson, Joe served as the leader of critical Supply Chain sourcing processes and was a member of the Johnson and Johnson Product Supply Leadership Team.
What you can Learn
● Why strategic sourcing is a value-added activity
● The transition from transactional to strategic sourcing
● How to develop Implementation plans for strategic sourcing in organization
● Tools To identify, analyze, plan and control supplier risk
…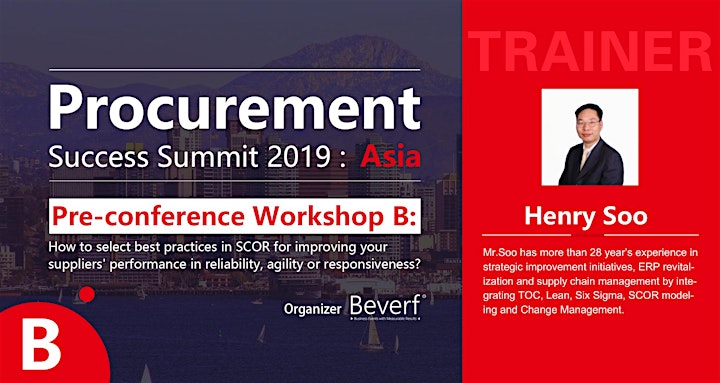 Workshop B: How to select best practices in SCOR for improving your suppliers' performance in reliability, agility or responsiveness?
Trainer: Mr. Henry Soo
Date: Oct 29, 2019
Mr.Soo has more than 28 years' experience in strategic improvement initiatives, ERP revitalization and supply chain management by integrating TOC, Lean, Six Sigma, SCOR modeling and Change Management. He has served a range of small to large-sized enterprises.
What you can Learn
● Work with the four central parts of the SCOR® model: Performance (Metrics), Processes, Practices (Best Practices), and People (Skills).
● Summarize a SCOR improvement program to match with the best practices for continuous enhancement.
● To dive into your supply chain context and select the right best practices for Reliability, Agility and Responsiveness
…
Know more details about the summit: http://pss.beverf.net/2019/en/index.php
Get detailed information about workshops, please contact us: marketing@beverf.net