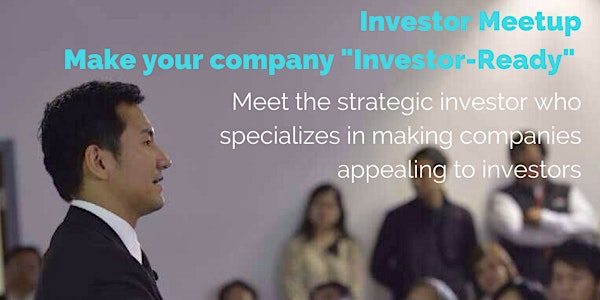 Private Consulting - "Investor Meetup Series": Make your company "Investor Ready"
When and where
Location
TGN Workhub Causeway Bay 1 Great George Street Hong Kong Island Hong Kong
Description
Being "Business-Ready" is very different from "Investor Ready". Is your business bulletproof and attractive to Investors? Are you looking for resources to optimise your business operation or investment opportunities?
Look no more, in this private session with Desmond Marshall, you will have the chance to answer all the questions you may have and get access to his knowledge as a 20+yrs investor expert in various industries.
Profile:
Desmond Marshall, MD of Rouge Ventures; Founder of Asia's top investor funding platform, Pitch Perfect. 20yrs+ expert in new company investments, strategic repackaging and due diligence. TV, Government, community, speaker/advisor/trainer on entrepreneurship and angel investments
- bio: desmondmarshall.weebly.com
- Linkedin: www.linkedin.com/in/desmondmarshall

Notes:
- Please bring any necessary information to the private meetup session and questions you may have, in order for the investor to help you.
- Each session is private for ONE company only.
- Each session is 45mins.
- Each company may have more than one person to attend.

Suitable Companies: from startups to mature companies; all industries

Date: Nov 15, 2016
Time and Location: To be provided privately
Fees: HK$500 per session (TGN members HK$450)
All details and arrangements will be communicated privately

Bookings or enquiries:
kristian.man@tgnglobal.com / https://www.tgnglobal.com/events/investor-meetup-make-your-company-investor-ready-0c6b4390-4ef1-49af-be38-c427eba95ef7