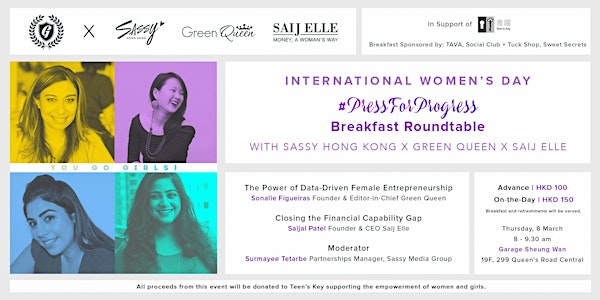 #PressForProgress IWD Breakfast Roundtable
When and where
Location
Garage Society Sheung Wan 19/F 299 Queen's Road Central Sheung Wan, Hong Kong Island Hong Kong
Description
#PressForProgress IWD Breakfast Roundtable with Sassy Hong Kong x Green Queen x Saij Elle
To commemorate International Women's Day and this year's charge to #PressForProgress for gender parity, join Garage Academy and Sassy Hong Kong for a breakfast roundtable with the founders of Green Queen and Saij Elle on how women can harness the power of digital and financial knowledge to build a better future for themselves, their businesses and communities.
The Power of Data-Driven Female Entrepreneurship with Sonalie Figueiras, Green Queen
Data runs our lives: in today's digital-first world, women entrepreneurs cannot afford to ignore the power that a clear understanding of data analytics can provide your business. Sonalie will share her experience co-founding and growing the Green Queen site from a couple of thousand monthly visits to a powerful media company with an audience of over 90,000 and 3 million+ digital impressions per month, and her insights on how to equip female entrepreneurs with the tech tools to succeed.
Closing the Financial Capability Gap with Saijal Patel, Saij Elle
Why is there a financial capability gap, and why is it so important to close? Saijal Patel founded Saij Elle so that women can achieve their financial potential in a safe and sage way. As a financial analyst, journalist and publicist with more than 20 years experience in the male-dominated business of money she will provide insights from a financial industry perspective, women/client perspective, and a daughter/mother perspective, on the role of women to close the gap, and what we can do.
Delicious breakfast and coffee will be served, generously sponsored by Tava, Social Club + Tuck Shop, and Sweet Secrets. Special thanks to supporting organisation The Busy Woman Project.

All proceeds from this event will be donated to the Young Mothers Club of Teen's Key, a mutual aid support group empowering young mothers in Hong Kong with life skills and leadership training.
Speaker Bios
Sonalie Figueiras is the founder and editor-in-chief of Green Queen, Hong Kong's largest health and wellness media platform and the founder and CEO of Ekowarehouse, the global sourcing platform for certified organic products. With over a decade of experience in publishing, SEO, digital marketing, organic trade and health journalism, she is a wellness industry veteran with a keen eye for market trends and a regular on the speaking circuit. When she is not working, Sonalie is usually dreaming up new recipes in the kitchen for her family.
Saijal Patel is the Founder and CEO of Saij Elle, a financial consultancy with a mission to empower, engage and inspire women to reach their financial goals. Saijal is a Chartered Financial Analyst and has held positions as a financial strategist and analyst. She also held positions in media as a former anchor and correspondent for Canada's CTV, and CNBC Asia based in Singapore, and delivered commentary and analysis on world economies, stock markets, and corporate news to more than 300 million households around the world. Her coverage earned recognition as one of the most influential South Asian Women Executives in the Media and Entertainment Industry by Korn/Ferry International.
Moderator: Surmayee Tetarbe, Partnerships Manager, Sassy Media Group
Surmayee Tetarbe is a Partnerships Manager at Sassy Media Group, and can be found scoping out the latest and greatest partners for Sassy Hong Kong and Sassy Mama Hong Kong. She is passionate about finding innovative and creative methods of communicating brand messaging to the vast number of Sassy girls in the city, and has a keen interest for all things internet related (memes included). Combining her love for numbers from her engineering background with the creative nature of finding partnership solutions, Surmayee always keeps her eye on the newest trends in digital marketing and how they can take media forward. Outside of work, you can find Surmayee in a coffee shop with a great book or testing out the newest fitness craze to hit Hong Kong.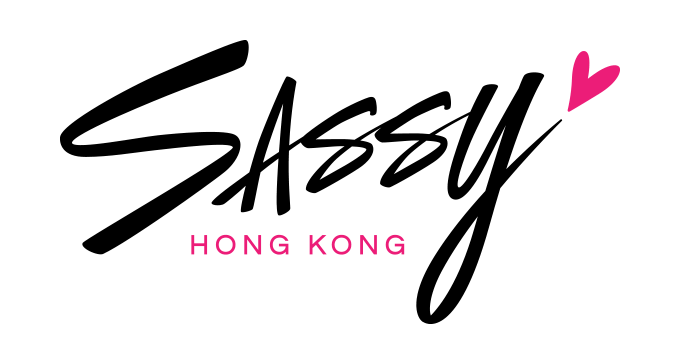 Special thanks to our sponsors:



Social Club

The Busy Woman Project

Sweet Secrets

Tuck Shop

TAVA Sheung Wan