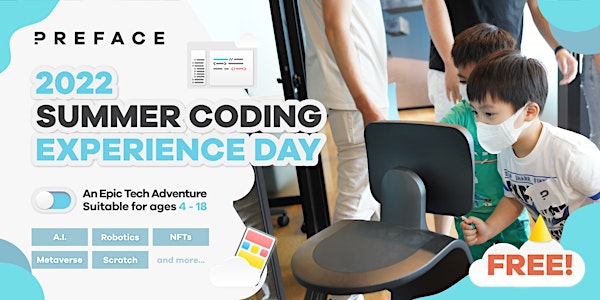 Preface Free Coding Experience Day | Preface Campus (CWB)
Make the most of this Summer Holiday! Join us in the coming weekends to get a taste of our Summer Coding Camps!
When and where
Location
Preface (Tower 535) 18/F, Tower 535, 535 Jaffe Road Causeway Bay, HKI Hong Kong
About this event
Preface is back with our signature Kids Coding Experience Day and newly launched Annual Coding Pass! 🎉 Coding is like learning a language - it's a long-term and continuous effort. That is why an annual pass is just the perfect fit for your kid - course variety, time flexibility, and value for money! ✨
這個夏天Preface帶著《兒童編程體驗日》及限定推出Annual Coding Pass強勢回歸!🎉 編程就像是學習一門語言-越年輕學習和漸進式學習效果越好。 有見及此,Preface推出annual pass滿足大家學習需求 - 可供選擇課程種類繁多、課堂時間靈活而且物超所值✨
Annual Coding Pass
📌 Starting at $1,500/ month for unlimited classes | 每月只需HK$1,500 課堂總折扣低至1折
📌 Save up to 90% OFF on all boot camps | 全年任選課程 有得揀至好玩
📌 New classes are added every month, with 200+ options weekly | 每周多達200個學習選項 每月增加新課堂
In just one hour, get a preview of our epic summer coding courses ranging from NFT creation to commanding robots to transforming the world of Minecraft.
It's 100% free and 200% fun. Learn a little coding, have a lot of fun, and expand a world of future possibilities for your kids.🌎
你相信可以在90分鐘內,培養出孩子對編程的興趣嗎?我們有信心由編程、 AI 至「機器人操作」全方位發掘孩子的天賦才能。
《兒童編程體驗日》旨在讓孩子感受科技的力量,喚醒自身的創造能力,費用全免。
Kids Coding Experience Day
🧑🏻‍💻 30 min coding experience for kids
Understand basic coding and machine learning concepts
Create their own exhilarating mini games
Get a taste of programming and controlling a robot
💡 Learn the latest tech trends on Metaverse, NFT, AI, Robotics and Augmented Reality
💬 Free consultation with our teachers and curriculum advisors
🗓 Date: Every Saturday & Sunday
🕚 Time: 10:00 - 11:30 | 11:30 - 13:00 | 14:00 - 15:30 | 15:30 - 17:00
✅ Age: 4-5 | 6-8 | 9-12+ (Beginners-friendly!)
📍 Venue: 18/F, Preface Campus, Tower 535, 535 Jaffe Road, Causeway Bay, HK
🧑🏻‍💻 30分鐘編程體驗
基本編程及了解機器學習概念講解
動手創建迷你游戲
透過編程操控機器人
💡 讓孩子愉快掌握最新科技,了解元宇宙、NFT、人工智能、機器技術及擴增實境!
💬 免費諮詢度身訂造的學習方向
🗓 日期:每個星期六及星期日
🕚 時間:10:00 - 11:30 | 11:30 - 13:00 | 14:00 - 15:30 | 15:30 - 17:00
✅ 適合年齡:4-5 | 6-8 | 9-12+ (零基礎也完全沒問題!)
📍地點:銅鑼灣謝斐道535號Tower 535, 18樓
Get a taste of Preface's signature coding fun now. Please register 1 ticket per child as seats are limited! Check out our Summer Camp courses and timetable here: https://www.preface.ai/boot-camp
與別不同的教學模式,打造孩子專屬的編程體驗!由於座位有限,請為每位小朋友登記一張門票。詳細課程內容:https://www.preface.ai/boot-camp
What to expect?
1. Coding Experience for Kids
Hands-on experience for them to learn how games are created, understand basic coding concepts, and take part in building real-world popular games with your peers and teacher! Parents are invited to participate together with kids to experience the signature Preface learning approach and project outcomes.
1. 兒童編程體驗
讓小朋友能夠體驗編程的樂趣及學習基礎,了解如何透過編程自創遊戲,並與同伴和老師一起創作現時流行的遊戲!家長也可以與孩子一起參與,體驗 Preface 獨特的教學方式及小朋友的創作成果。
2. Free Consultation with our Teachers and Curriculum Advisors
Our teachers will show you what your kids have learnt in the workshop and our curriculum advisors will give you personalised recommendations on your kids' study path.
2. 專業導師免費諮詢最適合的學習方向
在場的導師會提供免費諮詢,分析小朋友的強弱項,而且課程內容不再單調,因為Preface可以為孩子度身打造最愉快有效的學習方式。
Anything to prepare?
Please bring a laptop (Mac or Windows); the learning platform is web-based, and no software has to be installed.
The workshop will be conducted in English.
要準備什麼?
請攜帶筆記型電腦(Mac 或 Windows),無需預先安裝任何軟件。
準備你的好奇心!就算是編程新手也無任歡迎💡(體驗日以英語為主)
About Preface
Preface is an industry-leading EdTech company. By tech-enabling learners of all ages, corporates, and schools around the world with dynamic tech education and experiences, we empower individuals and businesses to thrive in the Web 3.0 era. Over the years, we've collaborated with and provided training for leading academic institutions including MIT, UCLA, LSE, and global MNCs such as Meta, Google, AWS, BlackRock and HSBC.
We offer flexible, dynamic, and efficient tech training for individuals and corporations alike through 1-on-1 or group settings. Driven by AI and machine learning, our courses can be tailor-made to the interests, schedules, and paces of our learners, making learning personalised, enjoyable, and applicable. Find your next big idea, break into a new career field, and seize the biggest opportunities of the future with Preface.
For all course details please visit: https://www.preface.ai
關於 Preface
Preface 是一所屢獲殊榮的編程學校,適合所有年齡和職業的學習者。近幾年來,我們與麻省理工學院、加州大學洛杉磯分校、倫敦政治經濟學院、香港中文大學等領先學術機構緊密合作並為其提供培訓;我們亦為 Meta、Google、AWS、BlackRock 和 HSBC 等全球跨國公司提供企業培訓。
於個人學習層面上,我們提供一對一和小組形式的課程,為不同行業的專業人仕提供全面網頁開發及數據科學的培訓。 我們的一對一培訓更會通過 AI 機器學習,根據個別學習者的經驗和目標進行個人化的課程編配,為求提供最貼心和設身的教學。我們的編程訓練營則為初學者而計,務求透過16 小時的高強度培訓,讓任何沒有經驗的初學者都能迅速提升編程技能。
歡迎到我們的網站上了解更多課程資訊:https://www.preface.ai
Find us on Social Media! 關注我們的動態!
Instagram: www.instagram.com/prefacecoding
Facebook: www.facebook.com/preface.coding
*Please note that Preface reserves the right to use any photographs, videos or audios taken from workshops for marketing or internal use. Should you have any problems, please contact us at hello@preface.education.
*請注意,Preface 將保留從工作坊中拍攝的任何照片、影片和錄音用於營銷或內部使用的權利。如果你有任何問題,請通過 hello@preface.education 與我們聯繫。