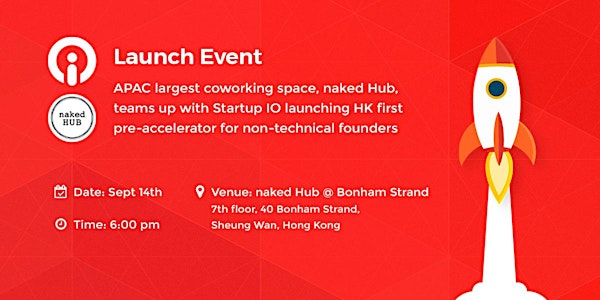 Pre-Accelerator Program for Non-Technical Founders Launching at naked Hub
Date and time
Thu, 14 Sep 2017 18:00 - 21:00 HKT
Location
naked Hub @ Bonham Strand 40 Bonham Strand, Sheung Wan, Hong Kong 7th floor Hong Kong
Description
Startup IO believes the barrier to entry for non-technical people to start a tech venture is still too high.
Startup IO teams up with APAC's largest co-working space operator naked Hub for a new kind of pre-accelerator programme specifically designed for non-technical founders that are serious about transforming ideas into investment-ready and accelerator-ready ventures.
Join naked Hub HK General Manager Deborah Negrash, Startup IO founder Bill Yuen, and our pre-accelerator alumi Peggy, James and Marcus for a fireside chat at naked Hub Bonham Strand on Sept 14th.
Date: Sept 14th
Venue: naked Hub@Bonham Strand
40 Bonham Strand, Sheung Wan, Hong Kong
7th floor
Schedule
6 pm: Doors open
6:30 pm - 7:30 pm: Moderated talk // Open Q&A
7:30 pm - 9 pm: Networking
About naked Hub
naked Hub is APAC's largest co-working space operator. Following the recent merger with Singaporean co-working space JustCo, naked Hub now has a combined footprint of 41 Hubs throughout Asia Pacific, spanning across 9 cities, 6 countries, gathering over 8,000 companies and expected to attract 32,000 members. naked Hub's pipeline expect to reach 200 Hubs by 2020.
About Startup IO
Startup IO is a new Technical Co-Founder Platform designed to help non-technical founders overcome the programming barrier of launching a tech startup. The platform has helped a wide spectrum of non-technical founders: from Series A funded ventures in Europe, to Y-combinator startups in U.S., to first-time founders in Hong Kong.
About KaChick
KaChick is an on-demand, location-enabled mobile app that connects photographers with customers anytime, anywhere, for anything. It aspires to consolidate the scattered global photographic service industry by offering an all-in-one solution to customers and photographers. KaChick is a marketplace where you can book a photographer anywhere, anytime, for anything.
Founded and based in Hong Kong, KaChick is a marketplace that connects photographers
with customers who want to capture memories from their everyday life.
For individual and organizational customers, it is the different precious moments that collectively defines and anchors your life. KaChick wants to help you capture and celebrate them.
For photographers of all levels, it is the capturing of these moments that define you as a professional – KaChick wants to help you do what you love by matching clients' needs to your skills.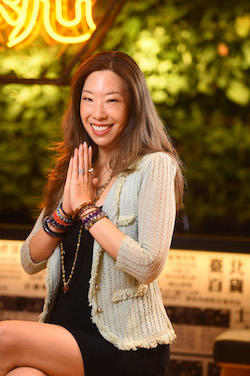 Deborah Negrash @ naked Hub
Deborah Negrash is the General Manager of naked Hub Hong Kong, overseeing the launch of the brand in Hong Kong, the overall operations, sales and the pipeline of Hubs opening throughout the city.
Deborah joined naked Hub in April 2017 after two years at Protek Asia Ltd. as Director of BD APAC and an eight-year tenure at The Executive Centre as Corporate Director of HR, Group Head of South & West China & Group General Manager (South China). As Corporate Director of Human Resources she used her knowledge and experience in Business Development and Management to build upon and develop an effective HR system that incorporated values such as; Service with Value; Confidence with a positive attitude; Communicate to understand; Solve challenges together. She was also the former Marketing Director at Riverdale International Property Development.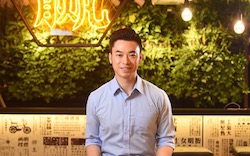 Bill Yuen @ Startup IO
7 startups, 4 failed, 3 exits.
Bill is a Hong Kong serial entrepreneur. He founded his first venture at age 18 (entertainment), second at age 22 (wearable technology), fourth at age 26 (media), and seventh at age 30 (artificial intelligence). At age 29, Bill was nominated as an organizing committee member by Hong Kong's First Lady — Mrs. Betty Tung, the spouse of former Chief Executive of Hong Kong — for her charity projects.
At age 31, Bill found EntrepreneurHK (www.entrepreneurhk.org), Hong Kong's leading startup news platform, covering startup news, interviews, and analysis. Techinasia and e27, Asia's two largest startup news organizations, are EHK's official partners with a total 1.3+ million readership within Southeast Asia.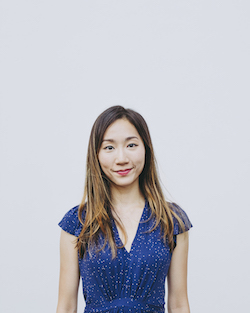 Peggy Cheung @ KaChick
Assuming the bona fide "People Officer" role, Peggy brings her wealth of experience in discovering and working with people to cultivate both the customer and photographer community. Prior to founding KaChick, she started her career in recruitment, where other than fostering matches, her more important role was to uncover talents and lift them up so they can shine with potential employers - a process that is, albeit in a different industry, akin to her onus at KaChick. After her stint in recruitment, she moved on to Morgan Stanley for four years, where she continued working with hundreds of businesses and high-net-worth individuals, while also adding a sharp business eye with exposure to business structure and model analysis, independent risk assessment and the likes. Her education is all about people though, with a Bachelor degree in Psychology from University of Nottingham and a Master's degree in Management from London School of Economics and Political Science. Her world however is much bigger than Hong Kong and UK, with her wanderlust bringing her to over 30 countries across 5 continents, and the matter of having more is one of "when" and not of "if."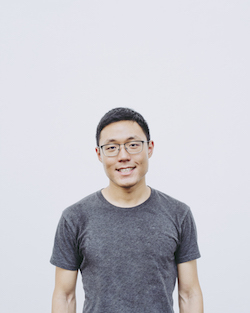 James Lo @ KaChick
James is currently managing KaChick's app development piece working closely with a team of engineers from Startup IO. James is a motivated, fast-learner who has obtained a Bachelor of Business Administration Degree at City University of Hong Kong. He has immense interest in technology, web development, UI/UX design. He self-taught himself HTML5, CSS3, Javascript, NodeJS, Angular 2, MongoDB. In the past 3 years, he managed to develop a chatbot and an online platform for connecting travellers to campgrounds over the world. His positive attitude, passion in coding and insights in the current technological development trend have brought himself to a level comparable to a software developer with similar years of experience. James has also been working on mobile app development, Agile development, web app backend service development, API integration as well as web and apps UI/UX design. James is an active individual who, in his free time, enjoys rock climbing, mountaineering and long-distance running.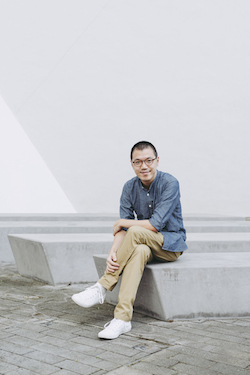 Marcus @ KaChick
Attracted to the team by the goal of changing how people/businesses source for photographers and the greater dream of helping them capture life's best moments, Marcus is a marketer that blends equal parts of creativity and pragmatism. He has worked with brands across various industries, including some of the most challenging ones, such as healthcare/pharmaceutical, B2B technology, and casino/gaming, and in his last capacity as an independent marketing consultant, worked with several start-ups and thus understands the challenge of a key target segment of KaChick. On top of his 6 years with world-renowned marketing agency Ogilvy, he also boosts a Bachelor in Journalism and Mass Communications from University of Wisconsin-Madison and a Master in Business Administration Degree from Hong Kong University of Science and Technology, giving him the unique blend of creative sharp eye and business acumen. In his free time, he likes the creativity of cooking and the precision of baking, and the tranquility of reading a good book.