Practical strategies for supporting struggling readers - A professional development webinar for Educators
About this event
Speakers: Dr Kate Erricker, Assistant Director of Nord Anglia University (Asia) and Ms Sylvia Lee, Education Advisor of Chatteris
About the speakers: Dr Kate Erricker is Assistant Director of Nord Anglia University. Previously an English Teacher, Secondary Head of Department and County Advisor, she has 18 years experience in education. Sylvia is the Education Advisor of Chatteris Educational Foundation. She has been working in the educational field for 20 years. She implemented a reading programme called Integrated English Language Programme (IELP) and " 'Learning to Learn' English Language Programme"(LLELP) in many local primary schools. She was the teacher educator in both local and international schools in HK and mainland China.
About this webinar: Introducing a range of strategies for struggling readers that can be applied immediately in the classroom.
This event is hosted by Chatteris in collaboration with Nord Anglia University (Asia).
Please go to https://chatteris.org.hk/chatteris-and-nord-anglia-webinars/ to learn more about it or check out a list of other upcoming webinars.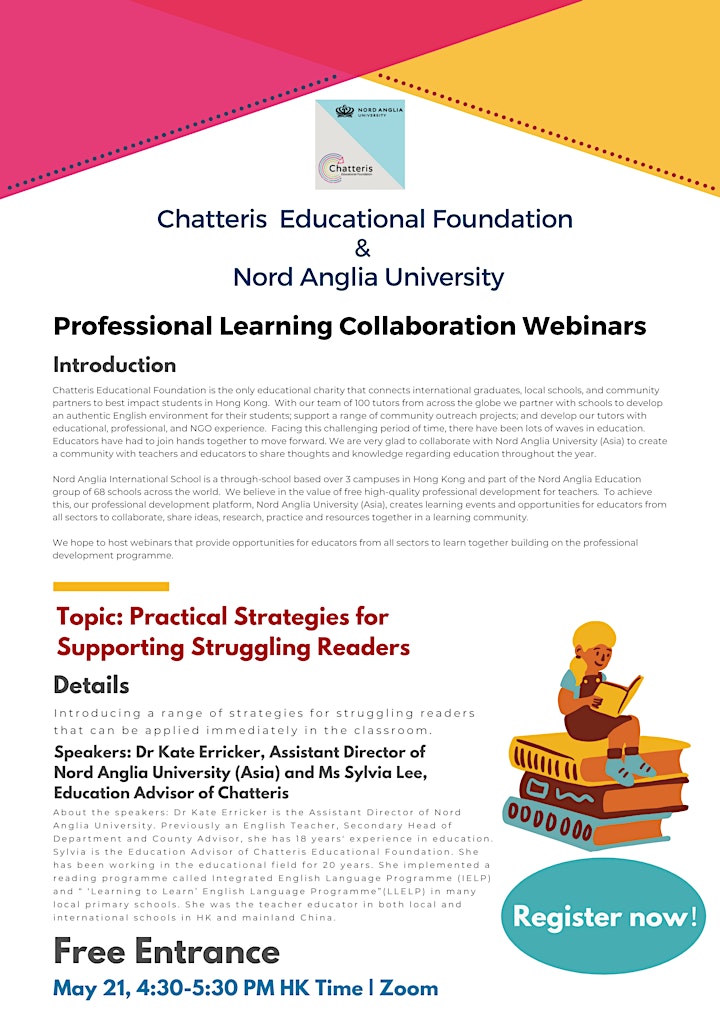 Organiser of Practical Strategies for Supporting Struggling Readers