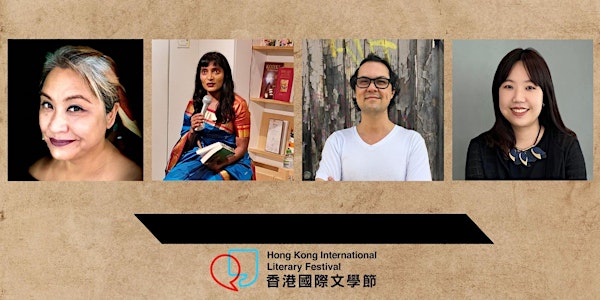 Powerful Asian Moms | An Interactive Discussion
Christine Vicera in conversation with Karina Bahrin, Preeta Samarasan, Zeno Sworder & Janice Li | Chats over Cha
By Hong Kong International Literary Festival Ltd
Date and time
Starts on Sat, 11 Mar 2023 16:30 HKT
Location
Fringe Dairy 2 Lower Albert Road Hong Kong, HKI Hong Kong
About this event
In this interactive discussion forum, Chats over Cha (facilitated by Christine Vicera, co-founder of be/longing), writers Karina Bahrin (The Accidental Malay), Preeta Samarasan (Tale of the Dreamer's Son), Zeno Sworder (My Strange Shrinking Parents) and Janice Li from Spill Stories share the stories and histories behind their work and the powerful women who have influenced their lives and their writing. Powerful Asian Moms is an anthology by Spill Stories of creative nonfiction prose, poetry, illustration, and photography celebrating Asian mothers, specifically, an exploration of the ways Asian mothers around the world embody individual power. be/longing (https://belonginghk.wordpress.com/) is a community arts-for-education lab.
Karina Robles Bahrin was born and raised in Malaysia. She worked in public relations in Kuala Lumpur and was a columnist with The Heat, a weekly by Focus Malaysia, before she moved to Langkawi to set up a resort and restaurant. Her first novel, The Accidental Malay, which examines the human cost of a country's racial policies, was published in August 2022 and won the Epigram Books Fiction Prize the same year. Her short fiction has been published in venues such as Urban Odysseys: KL Stories, KL Noir: Blue, A Subtle Degree of Restraint & Other Stories and Malaysian Tales: Retold & Remixed.
Preeta Samarasan is a writer of Malaysian Tamil origin. Her first novel, Evening is the Whole Day, won awards in several countries and was longlisted for the Orange and Commonwealth Prizes. Her short fiction and essays have been widely published in literary journals. Her second novel, Tale of the Dreamer's Son, which explores the changing political climate in Malaysia after the Sino-Malay sectarian violence of 1969, was published in 2022. Other than literature, her interests include global food history, Japanese art, and European classical music. She is an enthusiastic but not yet virtuosic harpsichordist. She currently lives in France.
Zeno Sworder is an award winning writer, illustrator and picture book maker who is passionate about literacy, creativity and diversity. He was born into a mixed (Chinese and English) multicultural family in Australia and has worked as a window washer, a dish washer, a journalist, a teacher, a volunteer for Lifeline, a senior visa officer at the Australian Consulate General in Shanghai and a tribunal advocate for migrants and refugees. But he has always felt most himself sitting at a table drawing pictures and making up stories.
Zeno is a Children's Book Council of Australia (CBCA) winner, Australia Book Designers Award (ABDA) winner and his book, This Small Blue Dot, was featured as part of the Bologna Ragazzi Amazing Bookshelf of International Children's Books. Zeno's lively presentations are interactive and fun. They include drawing demonstrations and group activities that are designed to equip students for their own adventures in writing and drawing.
Janice Li is a service designer and an advocate for diversity and inclusion. She is based in Hong Kong, a city where Spill Stories was founded in 2018, and a city full of diverse people and stories. Li is passionate about helping people share their personal experiences and stories in meaningful ways. Living in Melbourne, Sydney, and Hong Kong has allowed her to learn, appreciate, and interact with people from a multitude of backgrounds and cultures. Since joining Spill Stories in 2021, Janice has contributed to project planning, book conceptualisation and design, as well as communicating with partners and distributors as part of the book creation process.
About the organiser
Hong Kong International Literary Festival Ltd.
The Hong Kong International Literary Festival (HKILF), founded in 2000, is an annual event held over ten days in autumn, featuring established and emerging writers from around the world in a programme that includes discussions, literary lunches and dinners, workshops, lectures, debates, book signings, and readings.
The stellar list of past HKILF authors includes literary luminaries such as Seamus Heaney, Louis de Bernières, Colm Tóibín, Jung Chang, and Yann Martel.
HKILF is organized and coordinated by Hong Kong International Literary Festival Limited, a non-profit, charitable literary arts organization which also manages the annual Young Readers Festival.
HKILF brings writers and book lovers together at events that allow them to share ideas.
Hong Kong is uniquely positioned to attract not just the best authors and thinkers in Asia, but globally. The city that built itself on the exchange of goods, is now also the region's focal point for the exchange of ideas.
Literature makes us think, it gives us new perspectives. HKILF starts conversations that build a better society.