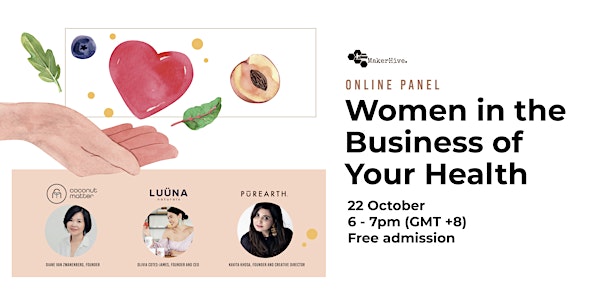 (Postponed) Online Panel: Women in the Business of Your Health
Join us as we discuss health-conscious,women-owned businesses who operate solely for the betterment of your body, mind and overall wellbeing
About this event
We'll be hosting the founders of Coconut Matter Hong Kong, Luuna Naturals and Purearth Hong Kong in this online panel.
🎟 Register here, and we'll send you a Zoom link shortly after!
📍Where: Zoom & Facebook Live on the Hive Hong Kong
💳Fee: Free
Coconut Matter founder:
Diane brings mindfulness to everyday beauty routines by creating social impacts on communities. Coconut Matter takes the approach to raise the beauty industry to better standards, based on transparency of ingredients and to ignite a shift in how products are made and packaged.
Lüuna Naturals founder:
Knowing we deserve better, she created LUÜNA naturals. The brand's organic cotton and reusable period care is healthy and friendly to the planet, while it's social impact business model ensures that every purchase of their products supports donations of period care to vulnerable groups across the world.
Purearth founder:
Purearth's range of artisanal skincare is sensitive to the value of the Earth's ecosystem. Ayurvedic practitioner for over 20 years. Holds Diplomas in Ayurveda, Vedanta and Advanced Organic Cosmetic Science. A former Wall Street firm lawyer and Director at Deutsche Bank Hong Kong. Now an active women's rights campaigner.