Description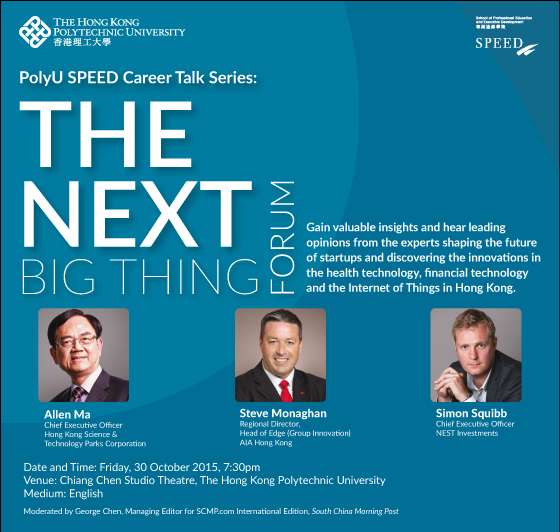 Gain valuable insights and hear leading optinons from the experts shaping the future of startups and discovering the innovations in the heath technology, financial technology, and the Internet of Things in Hong Kong.
Join the following distinguished speakers at this panel discussion:
Allen Ma, Chief Executive Officer, Hong Kong Science & Technology Park Corporation

Steve Monaghan, Regioanl Director, Head of Edge (Group Innovation), AIA Hong Kong

Simon Squibb, Chief Executive Officer, NEST Investments

George Chen, Managing Editor, SCMP.com International Edition, South China Morning Post (Moderator)

Date & Time
Friday, October 30, 2015, 7.30 p.m.

Venue
Chiang Chen Studio Theatre, The Hong Kong Polytechnic University
Medium
English

Register for your FREE tickets now to secure your seat at this innovative forum.
Free admission by confirmation email. Free seating and seating is on first come first served basis. Early arrival at the venue is recommended.