Description
Class Name

課程

Polymer Clay Art Course Kids Beginner I

For Ages 4 or above

Cantonese, Mandarin, English

軟陶藝術體驗課程——兒童初階一期

4歲及以上

粵語、普通話、英文授課



Description 關於課程
The reason that we choose Polymer Clay as a working medium is due to its chromatic, soft and subtle nature. Every small action we make is expressed in its final form which reflects our mental state, through which we can observe as a tangible piece. Once baked it solidifies in permanence.
In our Kids' Class, we use polymer clay to motivate young minds to think and learn actively, to cultivate their concentration and patience. A Traditional art class may ask children to "produce something" by offering them a sample, however we encourage children to observe and decide what they want to make, and how they want to make it. Inspire rather than tell. Cultivate their confidence when facing difficulties, and let them solve questions independently.
軟陶作為載體是因為它是一種密度和耐久度很高的材料,並且能夠呈現出精細繁複的圖案和光鮮亮麗的顏色。所以任何從心到手的細微變化都會在軟陶的型態上有所展現,讓我們可以仔細地觀察自己。經過烤製,軟陶便會變得堅固,得以永久保存,保養簡單,為自己走過的路留下美好的回憶。
關於兒童課程我們希望孩子們不僅玩樂其中,更學會專注和耐心。在面對製作中的苦難時也能勇敢地獨立思考解決。
我們希望孩子們感受到他們的心靈,呼吸和思緒,並在手作中學會協調,這種平衡不僅會反映在他們製作的成品中,更會影響著他們日常生活的點點滴滴。
不要小看孩子們的領悟力。根據我們多年的教學經驗,小孩子有時會比成年人進步得更快,體會得更深。早早在他們的心中種下"好心態"的種子,便會在日後的成長中慢慢生根發芽。
Instructor 導師
Siqiu 求求
Arrangement 時間安排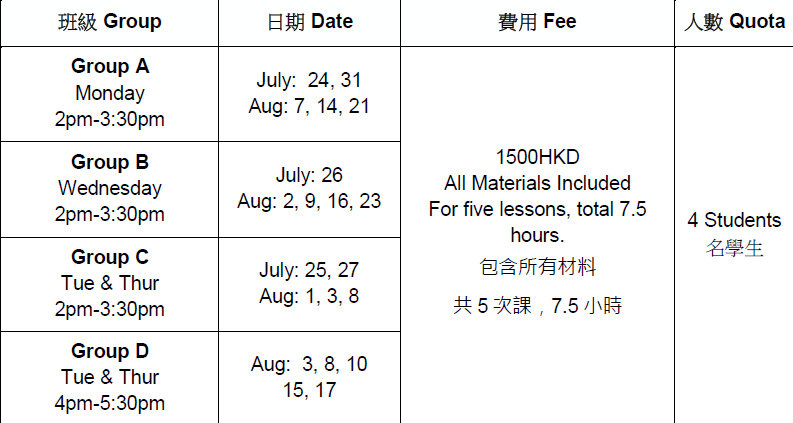 *All Materials Included. 包含所有材料
* For five lessons, total 7.5 hours. 共5次課,7.5 時


Payment 付款方式
1. Online: Eventbrite
2. Offline: Welcome to visit our shop! We accept cash, Visa, Mastercard, American Express and Unionpay.
1. 線上:Eventbrite
2. 線下: 歡迎來我們店!我們接受現金,Visa, Mastercard, American Express和銀聯。
FAQs
What if I find no group classes suitable for my schedule? 如果上⾯的小組課程沒有合適的時間, 我可以怎麼辦?
If you find no group classes suitable for your schedule, you may form your own class at request with a minimum of three attendees. Or alternatively, you may request a private class at $350 per hour.
如果上面的⼩組課程沒有合適的時間,您可以選擇私人課程(350HKD每小時),或者與至少另外2名學生成立新的小組, 約見合適的時間, 並享受小組課程的費率。
What languages will be used in different groups? 不同小組分別使用什麼語言?

We will ask your language preference upon registry, and provide accordingly for the class.
我們會在報名的時候詢問您希望課程使用的語言,並根據報名情況安排合適的語言予相應的課程。
Is there any trial class that I can take before I make up my mind to be fully enrolled? 我可以先嘗試一節課之後再決定要不要報滿5堂課嗎?
Yes, please contact us to request and book a one-hour trial class which costs 200 HKD.(This is independent from the formal five courses arrangement.)
可以,請聯繫我們預約時間來上一小時的試課,試課價格為200港幣。(試課是獨立於正式的5堂課安排。)
How can I contact you with any questions or requests? 如果我有其他問題或要求,應該如何聯繫你們?
You can contact us through facebook instant message, email or directly by phone call. You're also welcomed to visit our shop and communicate with us.
你可以通過以下Facebook,郵件或電話聯繫我們。我們也歡迎你蒞臨店舖與我們交流。
Website: www.soulartshop.com
Facebook: Soul Art Shop
Instagram: Soul Art Shop
Email: hello@soulartshop.com
Tel: 852 2857 7786
Address: Shop A, G/f, 24-26 Aberdeen Street, Central, Hong Kong
TAGS
Things To Do In Hong Kong Course Hobbies
Date and Time
Location
Refund Policy