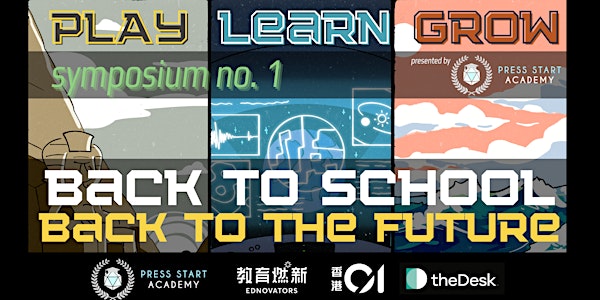 #PlayLearnGrow Symposium no. 1: Back to School, Back to the Future
Join Press Start Academy to explore the power of learning through play and the importance of skill-based education. Let's #PlayLearnGrow!
When and where
Location
theDesk Kwun Tong 22/F, One Pacific Centre Millennium City 5 Kwun Tong, KOW Hong Kong
About this event
Due to the ongoing Covid-19 situation, there are strict attendance guidelines from our venue partner. To confirm a spot at this event, please reserve a ticket through Eventbrite!
#PlayLearnGrow is a biannual symposium series curated and hosted by Press Start Academy, aiming to discuss the latest trends in learning through play and 21st-century skills development, share insights and case studies straight from the classroom, and build a community of like-minded parents, educators and other practitioners around these topics.
Each #PlayLearnGrow symposium features three sessions: a live in-person game experience demo (#Play); a casual sharing on learning through play (#Learn); and an interactive, facilitated discussion on 21st-century skills (#Grow) - designed around different themes depending on the time of year.
As our inaugural installment, our first #PlayLearnGrow Symposium will focus on going back to school and designing learning experiences for the future. Please join us for an exciting day of playing, learning and growing!
For the full session descriptions and to reserve a spot, please click into "Details".
Please note that in order to attend a session, you will need to reserve a ticket for it, so if you are planning on attending more than 1, please reserve a spot for all the sessions you'd like to join us for. Thank you for your understanding!
#PlayLearnGrow 研討會系列 由 Press Start Academy 策劃和主辦,一年兩次,旨在討論遊戲學習和 21 世紀技能發展的最新趨勢、分享在課堂中的發現和案例研究、並建立一個對教育有興趣和熱誠的社區,給予家長、教育工作者和其他從業者一個正面的共同平台交流。
每個 #PlayLearnGrow 研討會都包含三個環節:現場遊戲玩樂體驗(#Play)、遊戲中學習的分享(#Learn)、以及關於 21 世紀技能的互動式討論(#Grow)。
作為此系列的首個研討會,#PlayLearnGrow 研討會將專注於重返學校和未來學習體驗為中心。期待與大家見面,一起玩樂、一起學習、一起成長!