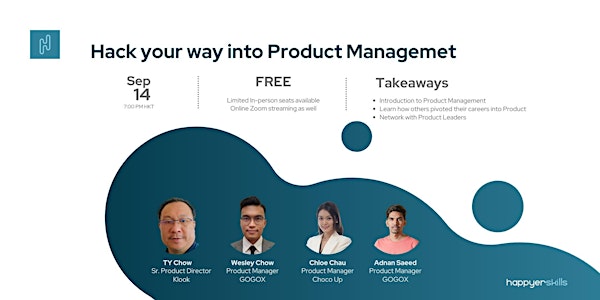 Pivot Your Career Into Product Management
Hear from people who pivoted their careers into GOGOX, ChocoUp and KLOOK. Learn about a day in the life of a product manager.
When and where
Location
Garage Society Sheung Wan 12 Queen's Road West Hong Kong, HKI Hong Kong
About this event
Want to develop a career as a Product Manager? You have come to the right place!
Hear from others who were in your shoes before, and have now pivoted from sales, marketing, project development into a career in product management at top companies.
What to expect?
* Introduction to Product Management
* Learn how others pivoted their careers into Product
* Networking with Product People
About the Panelists:
Ty Chow:
Now to someone who pivoted their career 8 years ago and led a successful career in product management with Agoda, Amazon and the last 2 years as a Senior Director at KLOOK. You can hear from a seasoned product leader and have all your questions answered.
Wesley Chow:
A little further in the journey, Wesley jumped into Product Mangement 5 months ago. He transformed from Project Management to join the Product Management team of one of the most successful unicorns in Asia. He will be able to share all his learning and experiences.
Chloe Chau:
Chloe jumped into product management 1 month ago. She transformed her career from Sales & Marketing. She will share how she did it, the challenges and the dos and don'ts. We are so proud of Chloe as an alumnus of H Academy.
About the Moderator:
Adnan Saeed:
Adnan works as a Product Manager for Payments & Internal Efficiency at GOGOX where he delivers end-to-end Product Development. He has built a strong business acumen with his studies at Top Business Schools & work experiences at some of the world's leading companies. He is customer-obsessed and leads with empathy.
About H Academy
H Academy is empowering human potential.
H Academy offers Immersive Courses, Part-Time Courses, Bootcamps and Workshops providing professionals from all backgrounds with the skills needed to make a career change or launch their own startup. From Data Science to Product Management, you will learn how to apply the skills learnt from the courses through real-world projects. You will be taught by world-class instructors who have experience working with firms such as HSBC, Klook, Agoda etc.
You will also be mentored by experienced career coaches who will advise you with your career transformation and have access to happyer.io's 2000+ connections to top companies.
To know more about us, feel free to visit https://academy.happyer.io/.
We look forward to seeing you soon!
H Academy Team
*No prior knowledge is needed, absolute beginners are welcome.
*Language: English