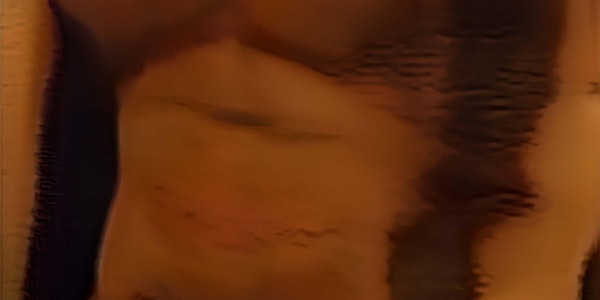 Performance: "Repetition Maximum" by Liao Jiaming 表演:廖家明「最大重複次數 」
Performance: "Repetition Maximum" by Liao Jiaming 表演:廖家明「最大重複次數 」
When and where
Location
Jockey Club Creative Arts Centre 30 Pak Tin Street Shek Kip Mei, KOW Hong Kong
About this event
About Performance
Repetition Maximum
Wearing a muscle costume, image maker Liao Jiaming walks from JCCAC to RNH Space, connecting his two exhibition sites. The 30 minute performance will be live-streamed through Instagram, simultaneously through a first- and third-person perspective.
Repetition Maximum (RM) is a concept borrowed from weight training, referring to the most weight one person can lift over a set number of exercise movements. Beyond physically experiencing time and space, the artist utilises different media to survey their own body and others, in turn inviting the audience to reevaluate the physical and psychological weight of one's torso in a society plastered with digital images.
Date: 30.10.2021 (Sat)
Time: 17:00 - 17:30
Venue: from L7 Green Space, JCCAC (30 Pak Tin St, Shek Kip Mei) to RNH Space (Rm 2313, Khora,128 Bedford Rd, Tai Kok Tsui)
About Exhibition
Too Good to Be True
Artificial intelligence (AI) trained with profile pictures from gay dating apps generates the images that form the main content of this exhibition.
The distortions in the generated images are a reflection of social media's twisted perception of and desire for bodily perfection.
The 'collaboration' between the artist and the machine not only questions what photography is in terms of image production, yet also simulates how online dating images are produced, stored, chosen, and reproduced. This case study explores the notion of beauty and how it has shaped social behaviours and influenced our self-cognition. In addressing various aspects of online dating through Too Good to Be True, Liao hopes to foster dialogue on the complexity and fragility of interpersonal relationships.
表演簡介
最大重複次數
廖家明將穿著肌肉道具服裝從賽馬會創意藝術中心L7綠色空間步行至RNH Space,從而將兩個互相關聯的展覽連接。整個表演約30分鐘,並會於Instagram上以第一身視角及第三身視角直播。
「最大重複次數」(RM)是一個健身中常用的概念,所指在做某個動作能夠至特定次數的情況下,舉重員當刻能承受最大的重量是什麼。是次表演將此概念融入對人體的審視,把「特定次數」轉化為一種物理距離,廖家明透過對自身極限的挑戰,開展一段跨越時間和空間的旅程,透過不同媒介帶領觀者重新思考:在充斥數碼圖像的景觀社會裡,我們肉身的重量。
日期: 30.10.2021 (周六)
時間:17:00 - 17:30
地點:由賽馬會創意藝術中心L7綠色空間(石硤尾白田街30號)至 RNH Space(大角咀必發道128號宏創方2313號室)
展覽簡介
盡善盡美
人工智能以廖家明在同志交友應用程式上所收集的頭像,生成一系列類近圖像,折射網民對社交肉體的完美與扭曲病態慾望。藝術家「伙拍」機器,模擬圖像如何被生產、存案、選取、再生成,質疑「攝影是什麼」?探究網約對美的理解如何模塑社交行為及自我認知。
About Artist
Liao Jiaming / @Iiao_jiaming_
LIAO (b.1992) lives and works in Hong Kong. He obtained his BA in Journalism from Sun Yat-sen University in 2016, and his MFA in Creative Media from City University of Hong Kong in 2019. He is interested in human emotions, especially those evoked by social interactions and technological advancements. He shuttles between the physical and virtual world, manipulating images and being in this moment of time.
藝術家簡介
廖家明 / @Iiao_jiaming_
香港生活及工作。廣州中山大學新聞學士、香港城市大學創意媒體藝術碩士。尤愛關注社交關係與科技進展觸發的人性情感,於現實與虛擬境界之間把玩圖像,實踐存有。
Special Measures 特別措施
(1) Any person entering JCCAC must wear a self-provided face mask and sanitise their hands. A thermal detector has been installed at L1 Wai Chi Street entrance, which is remotely monitored by the Centre security staff, who may request to check again any individual's body temperature if needed.
(2) Any person who fails to cooperate as requested, or displays fever (forehead temperature above 37.5C), fatigue, cough, diarrhea, vomiting or other flu-like symptoms will be refused entry or asked to leave JCCAC.
(3) All persons entering JCCAC must abide by the "Prevention and Control of Disease (Prohibition on Group Gathering) Regulation" (Regulation) gazetted by the Government, including but not limited to the extension of the "congregation restriction" which prohibits groups of more than 4 persons to gather in public, with effective from 24 February 2021.
(4) Eating and drinking is not permitted.
(5) Any person who violates the law will bear legal responsibilities.
(1) 進行活動前需量度體溫,發燒者不能參與活動
(2) 場地內進行活動必須配戴口罩
(3) 所有人員盡量分開,保持社交距離,4人限聚
(4) 不可飲食
(5) 如有違法,須自行負上法律責任
Support HKIPF 支持香港國際攝影節
Support freedom of expression and help facilitate the growth of the arts by making a donation to the Hong Kong International Photo Festival. Your contribution will go towards our operation, future programmes and keeping our events accessible.
The Festival was launched in 2010. In each edition, the Festival focuses on a different theme, introducing noteworthy photographers, trends, and movements, discussing manifold issues and perspectives. Through a wide range of public programmes, the Festival bridges Hong Kong and international visual practitioners, creating conversations between people and place, past and present, and oneself and the world.
The Festival is organised by the Hong Kong Photographic Culture Association, which is a tax-exempt charity under section 88 of the Inland Revenue Ordinance. Donations above HKD 100 are tax deductible. If you require a receipt for tax deduction, please make a note when you register, and confirm with our staff at the event. If you have any questions, please feel free to contact info@hkipf.org.hk.
With your support, we hope to make ever greater progress in the coming decade.
為秉持香港國際攝影節的獨立自主,專注社會、非營利的精神,以及守持表達及知識的自由傳達,活動的開放自由參加,誠邀您成為我們的支持者。
創始於2010年,每屆攝影節以不同主題之展覽,將攝影世界具獨特性、創造性的名字,以及值得關注的視覺文化思潮引入香港。同時,透過不同公眾活動,搭建香港與世界攝影文化的溝通平台,借影像呈現不同文化歷史議題,審視不同社會人文狀況,促進跨越地區與領域的對話。
香港國際攝影節由香港攝影文化協會主辦,協會為根據《稅務條例》獲確認豁免繳稅資格之慈善團體,凡捐款港幣一百元以上可獲扣稅。如需要收據用作扣稅用途,請在登記時註明,並在出席活動時與工作人員確認。如有任何問題,歡迎聯絡info@hkipf.org.hk。