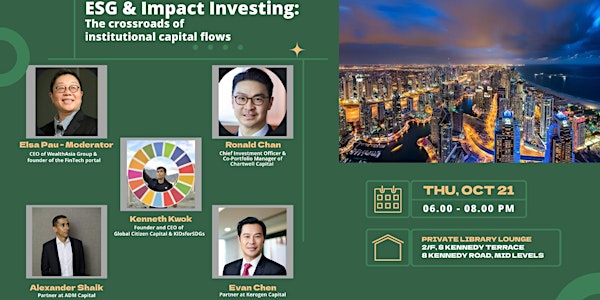 PeppTalk - ESG & Impact Investing @ the crossroads of institutional capital
Environmental, Social and Corporate Governance & Impact Investing @ the crossroads of institutional capital flows
When and where
Location
Hong Kong Private Library Lounge 2/F Kennedy Terrace 8 Kennedy Road Hong Kong, HKI Hong Kong
About this event
Join us on a fascinating Panel discussion with key leaders in their respective industries on ESG and what it means in Value and Investments.
Hosted by Pepperdine Hong Kong community with guests from NYU on 21 October 2021 from 6-8 pm Hong Kong time.
We will have limited seats. In-person attendees must be fully vaccinated or you could join us via zoom free of charge.
RSVP email: pepptalkhk@gmail.com
PeppTalk Series #2
Hosted by Pepperdine University Alumni of Hong Kong.
In collaboration with NYU.
We invite your participation to a ground-breaking conversation with esteemed panelists and a moderator like no other.
TOPIC
Environmental, Social, and Governance (ESG) requirements and the value placed on Impact Investments
The spectrum of sustainable investment strategies has evolved over several decades. Generating returns is a priority for any asset class, however ethical and environmental factors are imperative when it comes to responsible investing. As Asia is gaining momentum within the realm of environmental, social and governance (ESG) investing, join our panel of experts to discuss how implementing ESG strategies can continuously improve investment practices.
Reviewing perspectives by exploring ESG trends and practices in Asia and globally
Integrating ESG into investment processes and assessing risk-return implications
Highlighting corporate disclosure as a foundation for ESG analysis and engagement for investors
Save the Date, don't miss out on this incredible opportunity to hear from experts in the field of Value and Impact Investments with the over-arching requirement of ESG compliance.
Ronald Chan – Panelist
Ronald Chan founded Chartwell Capital in 2007 and currently serves as Chief Investment Officer and Co-Portfolio Manager. Since 2016, Ronald has been appointed by The Stock Exchange of Hong Kong Limited to serve as a member of the Listing Committee Panel. He sits on the ESG & Corporate Governance Sub-committee, steering policies, and best practices for Hong Kong-listed issuers. A regular contributor to Bloomberg Opinion and Financial Times Chinese, Ronald is also the author of two books: Behind the Berkshire Hathaway Curtain: Lessons from Warren Buffett's Top Business Leaders in 2010, and The Value Investors: Lessons from the World's Top Fund Managers in 2012 and 2021. Ronald graduated with a Bachelor of Science in Finance and Accounting from the Stern School of Business at New York University and is currently the President of the NYU Hong Kong Alumni Club.
https://www.linkedin.com/in/ronald-chan-68460b188/
Kenneth Kwok - Panelist
Kenneth is the Founder and CEO of Global Citizen Capital and KIDsforSDGs - which jointly empower and enrich the future of education, employment, and entrepreneurship for next-generation leaders. Through a three-pronged approach of #impact, #innovation, and #inclusion, these two organizations support teen- and youth-led start-ups and scale-ups towards the triple bottom line approach of people, planet, and profit. Kenneth has worked 15 years in the finance industry, serving as the CIO to a large Chinese listed conglomerate as well as a financial professional at UBS AG and Deutsche Bank. At the World Economic Forum, Kenneth is an innovator and engagement champion at UpLink, the Forum'scommunity, a Global Innovator and he spoke on a multi-stakeholder approach to SDG action at the Davos 2021 Annual Meeting.
https://www.linkedin.com/in/kennethwtkwok/
Alex Shaik – Panelist
Alexander Shaik is a Partner in ADM Capital. ADM Capital was established in 1998 during the Asian Financial Crisis focused on sustainable private credit investments. The firm has over $2bn assets under management with a track record of investing in over 150 private deals across the Asia-Pacific. ADM Capital believes that social and environmental aspects of businesses are a key driver of investment returns and accordingly base their investments on sustainable ESG principles. Alexander graduated from Australia and has lived in Hong Kong for 20 years.
https://www.linkedin.com/in/alexander-shaik-5371a310/
Evan Chen – Panelist
Evan has 20 experience in private equity and investment banking. He is currently a Partner, Chief Operating Officer, and Investment Committee Member of Kerogen Capital. Kerogen Capital is an independent private equity manager focused on the international energy sector with assets under the management of c.US$3 billion. The firm's strategy includes traditional energy and the energy transition and sectors. Evan was previously at Rothschilds based in Hong Kong and J.P. Morgan Australia where he focused on M&A, financing, and debt restructurings in the industrial and natural resources sectors.
https://www.linkedin.com/in/evan-chen-56056822/
Elsa Pau - Moderator
Elsa Pau is CEO of WealthAsia Group and the founder of the FinTech portal, BlueOnion. Elsa's latest venture promotes responsible investing and clarity by exposing asset managers' qualitative and sustainability performances. She advocates for investor protection and drives compelling propositions that benefit real change for the finance community. Elsa is a finance industry veteran who focuses on sustainable, responsible, and impact investing and currently serves as an investment governor for a few family offices in Asia. She is the creator and curator of the Sustainable Family Office Forum, the Sustainable Wealth Exchange, Blue Onion, the Women Extraordinaire Forum, and a series of Wealth and Asset Management Quality Study and Awards Program operated under the BENCHMARK brand.
https://www.linkedin.com/in/elsa-pau-ba279210/?originalSubdomain=hk