People and Culture: What is it about?
Join us on August 19th, 2022 to get expert advice from our panelists - Christy, Kevin, and Cameron, on People & Culture.
About this event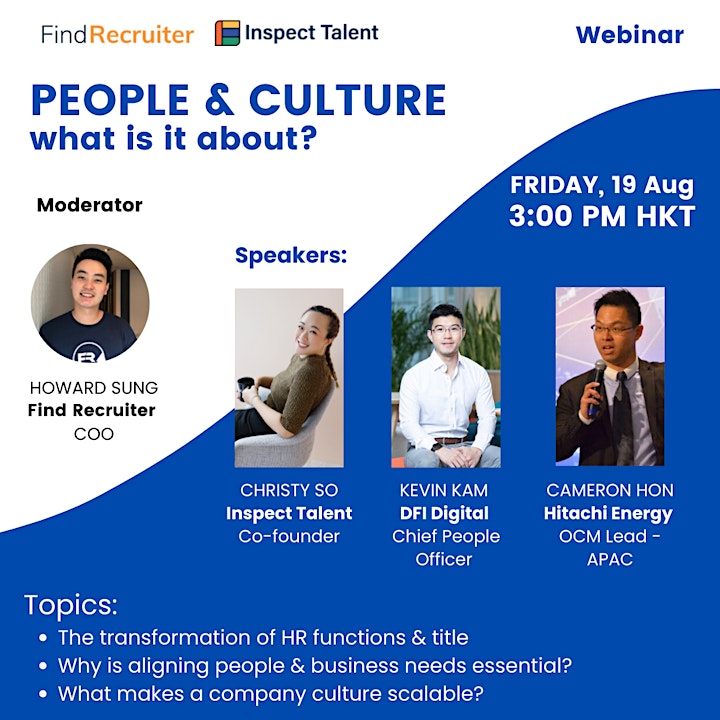 Posting or browsing HR jobs these days, you may notice not only start-ups but many corporates from various industries have renamed their HR department to People & Culture, while functions and titles became more dynamic, such as Head of Talent Acquisition, Director of HR Business Partner, People Operations Regional Manager etc.
What is with the transformation and how do all these impact the growth and scalability of an organization?
We're honored to have Howard Sung (Chief Operating Officer @ FindRecruiter) joined by Christy So (Founder @ Inspect Talent), Kevin Kam (Chief People Officer @ DFI Digital), and Cameron Hon (APAC OCM Lead @ Hitachi Energy) who are experienced in People & Culture transformation, to discuss and share with us their insights on how to instill, foster, and promote best practices.
If you're a founder, change advocate, or leader of your business, you do not want to miss this fruitful exchange on Friday, August 19th, 2022 at 3 - 4 PM!