Description
​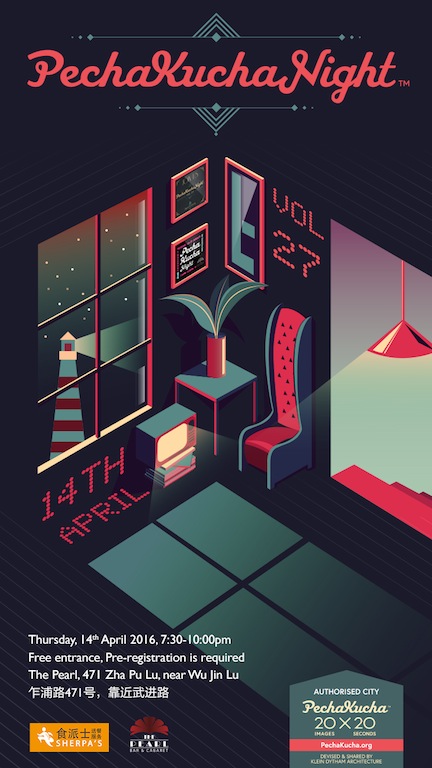 The next PechaKucha Night in Shanghai is coming soon!
Don't stay at home, but feel at home at PKN Shanghai #27.
Agenda 活动安排
18:30 Doors (kitchen/bar) open 场地开放/厨房开始营业
19:30 Event start 活动开始
20:30 Break 中场休息
20:45 Presentations continue 演讲继续
21:15 Break中场休息
21:30 Presentations continue 演讲继续
22:00 Networking 自由交流
Time & Address 时间地点:
Thursday, 14th April 2016
2016年4月14日, 周四
The Pearl - 471 Zha Pu Lu near Wu Jin Lu (Metro line 10 North Sichuan Road)
乍浦路471号靠近武进路 (地铁10号线四川北路站)
Registration and Tickets 注册及门票:
Free entrance 免费入场
Pre-registration online is mandatory 入场名额须提前注册
Free seating, come early to secure yourself a (better) seat 座位先到先得
Reservation for VIP table or booth, please call The Pearl via Tel/Wechat 13764889962
预订VIP桌位请电话或微信联系活动场地The Pearl 13764889962
Please keep in mind that everyone has to register on Eventbrite even if you have a reservation with The Pearl. 每个活动参与者都需要在Eventbrite上注册,即使已向The Pearl预约。
Important: Please bring a printed ticket or show the ticket/registration in your email or Eventbrite app. This way we can quickly check all the participants entering the venue to make sure we don't go over the maximum capacity. Thank you for your understanding.
注意:为了确保所有注册的参与者顺利进入会场,并且避免超过场地最大容量,请务必携带打印好的注册成功证明,或者出示注册成功的邮件或Eventbrite客户端。谢谢理解。
Speakers 演讲嘉宾:
We'll have 9 enthusiastic speakers that will touch upon a broad variety of topics.
我们的演讲者来自截然不同的领域, 他们将为大家带来意想不到的创意与经历分享。
Follow Us 关注我们:
To learn more about our speakers and latest events, please follow us @PechaKuchaShanghai on Wechat Official Accounts…
欲知更多详情,请关注我们的微信公众号 PechaKuchaShanghai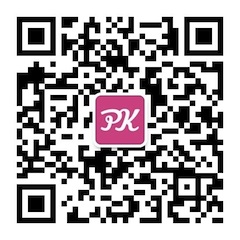 ---
About PechaKucha
- How was PechaKucha created?
PechaKucha Night was devised by Astrid Klein and Mark Dytham of Klein Dytham architecture. The first PechaKucha Night was held in Tokyo in their gallery/lounge/bar/club/creative kitchen, SuperDeluxe, in February, 2003. PechaKucha Night is for CONTENT and not profit. It's now happening in over 800 cities around the world.
- PechaKucha的起源
PechaKucha Night 是由日本东京的Klein Dytham Archtetcs (KDA)设计组织首先在他们的"Supperclub"这个夜店发起的。经过证明这是一个非常棒的既可以晚上出去玩又可以结交一些新朋友、新想法、新的工作的好点子。于是这个内容为王的非赢利性活动开始在全世界开展起来。PechaKucha之夜现已经遍布全世界800多个城市和地区。
- What does PechaKucha mean?
Pecha Kucha (Japanese:ペチャクチャ, chit-chat) can be translated as "chattering" or "chatting". Eight or more selected speakers from different industries will make speaches following the PechaKucha 20*20 format which is a simple presentation where 20 images are shown, each for 20 seconds. The images are sliding automatically and the speaker will talk along them.
- PechaKucha的本身含义
日语词Pecha Kucha 大致可以翻译为"喋喋不休或者闲聊"。PechaKucha 20*20是一种简单的演讲方式,8名或更多来自不同行业的演讲者运用这个方式进行演讲,每个演讲展示20幅图片,每一幅图片讲20秒,图片自动播放,演讲者根据播放的图片进行演讲。
- What are PechaKucha nights?
PechaKucha Nights are informal and fun gatherings where creative people get together and share their ideas, works, thoughts, holiday snaps -- just about anything, really -- in the PechaKucha 20x20 format. So if you want to participate on a future occurrence, just think of something you love, a creative field of your expertise and come talk to us.
- PechaKucha之夜的含义
PechaKucha之夜是一场充满欢乐的非正式聚会。一群富有创意的人聚在一起,按照PechaKucha 20*20的形式,互相分享任何事情——新的创意、工作、对某件事情的看法,假日趣事等等。
- Why PechaKucha Shanghai?
Shanghai needs more open, informal, fun and non-profit events. That is why we dig out hidden talents and creativity to inspire people, and create a stage to amaze and surprise you!
- PechaKucha活动对上海的意义
上海需要更多开放的、非正式的、有趣的以及非赢利的活动。正因如此,我们决定挖掘出那些隐藏在你我之间,有才华有创意的个体,搭建起这个舞台,为大家带来充满灵感与欢乐的惊艳夜晚!