Topic: Impact beyond academic: How basic science can be translated to drug discovery?
About this event
About the speaker:
Dr LUNG Hong Lok from the Department of Chemistry has been working on the cancer/molecular biology and translational studies of nasopharyngeal carcinoma (NPC) for over 20 years. Previously he had focused on the basic science of this unique cancer type, which is prevalent in Hong Kong and nearby regions. Dr Lung and his team had successfully established a number of peptide-based EBNA1-targeting inhibitors, and these findings were published in high impact journals including Nature BiomedicalEngineering, PNAS, Advanced Science, JACS gold, etc.
About this webinar:
Protected by patents and supported by Technology Start-up Support Scheme for Universities (TSSSU), Dr Lung has established a spin-off company BP InnoMedLimited which is positioned as a drug company to develop new therapeutic agents for EBV-associated tumors, including NPC.
Dr Lung will demonstrate how he is translating his basicscience knowledge into an invention of anti-EBV drugs. In addition, he will share his insights on the path of researching and advise HKBU staff and students who are interested to commercialize their IP rights and technologies.
A confirmation email and zoom link will be send to you after the registration.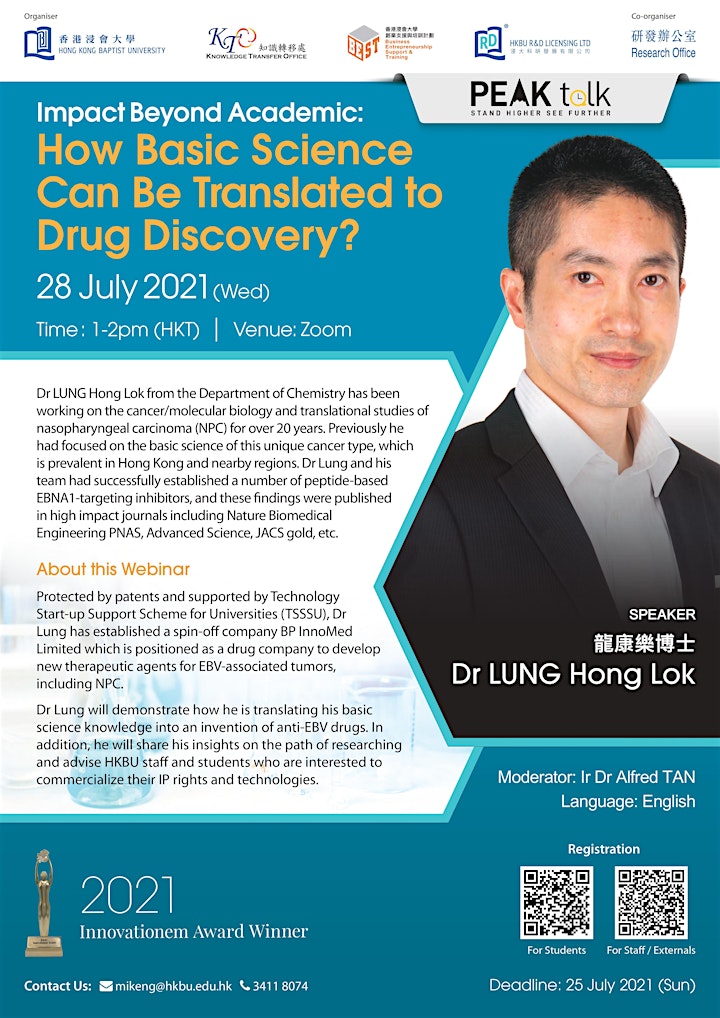 Organiser of [PEAK Talk] Speaker: Dr LUNG Hong Lok Impact Beyond Academic