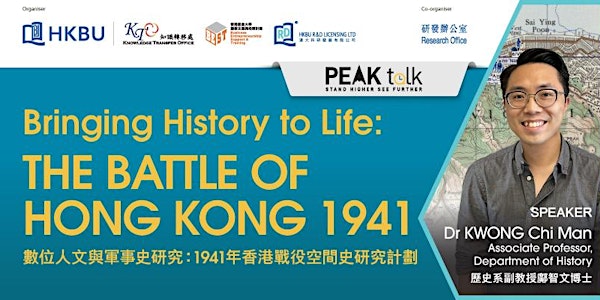 [PEAK Talk] Bringing History to Life: The Battle of Hong Kong 1941
[PEAK Talk] Bringing History to Life: The Battle of Hong Kong 1941
About this event
About the speaker:
Dr KWONG Chi Man is a specialist on Hong Kong and Asian military history and an Associate Professor at the Department of History at Hong Kong Baptist University.
Backed by historical records in Australia, China, Japan, United States, and the United Kingdom, Dr Kwong's studies tell the story of Hong Kong's changing strategic role in the nineteenth and twentieth centuries as well as the people's experience.
Dr Kwong's conservation activities, with an emphasis on high culture, range from academic seminars, government projects, to digital interactive maps for creative commons. In order to maximize the research's impacts, he is also open to popular culture and industrial collaboration including but not limited to tourism, gaming and films.
About this webinar:
The innovative spatial history project "Hong Kong 1941" uses geographic information systems (GIS) to build an interactive web map about the Battle of Hong Kong and a database of British military installations in Hong Kong during the Second World War. Combining the up-to-date digital technology and expertise in military history, this interactive map allows historians and other beneficiaries to move beyond the textual dimension and approach historical issues from a spatial perspective. Recently, this novel project won the Best DH Data Visualization category at the Digital Humanities Awards 2021.
Dr Kwong will introduce his online interactive map and share his insights on the future possible way out of digital humanities.
Please read this Privacy Policy Statement (PPS) and Personal Information Collection Statement (PICS) carefully to understand the policy and practice of Hong Kong Baptist University regarding how your personal data will be treated. https://bupdpo.hkbu.edu.hk/policies-and-procedures/pps-pics/
A confirmation email and zoom link will be send to you after the registration.