PayPal x SHOPLINE x 順豐到+ : 如何優化用家的網購體驗?

Friday, 28 April 2017 from 14:30 to 17:30 (HKT)
Event Details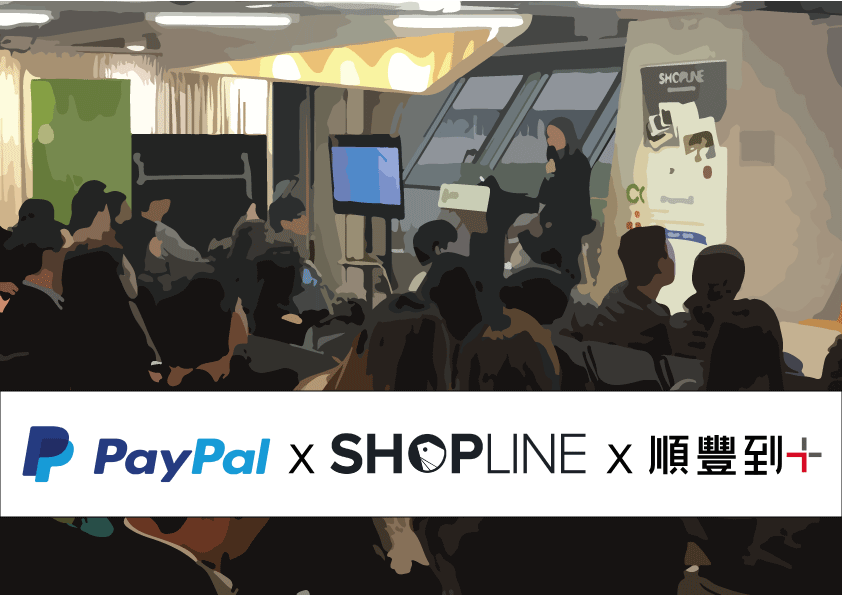 香港的電子商貿日趨成熟,香港人越來越習慣網上購物。雖然去年香港消委會的報告發現,香港人的網購滲透率,相比起歐美或內地低,不過這亦表示,現在加入電商行列還有很大的增長空間!
做電商聽上去容易,但試過經營網店的朋友都知道,由你將貨品上架一刻起開始,直至將它安全送到客人手上,其實內裡大有學問!如果想一次過學懂開店、收款、物流的竅門,就不要錯過這次由 PayPal、順豐到+和 SHOPLINE 合辦的分享會啦!
活動資訊:
日期:    2017年4月28日(星期五)
時間:    3:00pm至5:30pm (2:30pm開始登記)
地點:    香港灣仔中環廣場15樓1506-07室PayPal辦公室
語言:    廣東話
對象:    所有正計劃開網店或現有電商店主
---
2:30 - 3:00pm          


登記


3:00 - 3:10pm



歡迎致詞及介紹
Gabriel Lo, Head of Channel Partner, PayPal HK





3:10 - 3:50pm



如何刺激客人在你的網店消費?
Plato Wai, Business Development Manager, SHOPLINE


 

挑選電商平台應該留意的地方
如何刺激客人在網店內多消費?
簡介 SHOPLINE 網店平台






 3:50 - 4:30pm




優化買家體驗: 善用PayPal 搶佔商機
Sanky Ng, Integration Consultant, PayPal HK


 

如何增加消費者購買率?
如何保障買賣雙方利益?
如何提供更多付款方法? 



 


 4:30 - 5:00pm



善用最新"SF Plus"服務及產品,強化電商的競爭力
Vincent Fan, Business Development Manager, SF Plus 


 

順豐到+ 產品及服務簡介
傳統電商及其客戶於物流配套上的迷思
利用「順豐到+」靈活及高時效物流產品獲得更多商機



 


 5:00 – 5:30pm 


問答環節及討論


When & Where

PayPal辦公室
灣仔中環廣場15樓1506-07室
香港
Hong Kong SAR China

Friday, 28 April 2017 from 14:30 to 17:30 (HKT)
Add to my calendar
Organiser
PayPal (Nasdaq: PYPL) is committed to democratizing financial services and empowering people and businesses to join and thrive in the global economy. Our open digital payments platform gives PayPal's nearly 200 million active account holders the confidence to connect and transact in new and powerful ways, whether they are online, on a mobile device, in an app, or in person. Through a combination of technological innovation and strategic partnerships, PayPal creates better ways to manage and move money, and offers choice and flexibility when sending payments, paying or getting paid. Available in more than 200 markets around the world, the PayPal platform, including Braintree, Venmo and Xoom, enables consumers and merchants to receive money in more than 100 currencies, withdraw funds in 56 currencies and hold balances in their PayPal accounts in 25 currencies.
SHOPLINE is a DIY e-commerce platform for creating online shops for merchants in Asia. Our differentiation lies in our simplistic setup process, native language support, regional payment methods and the fact that the entire experience is optimised for mobile. All shops are completely responsive and adapts to all screen sizes so the customer experience is consistent on every device. From setup to customization and management, the merchant can also do everything using only their mobile phones. Our goal is to empower small businesses in Asia with simple-to-use tools that complements the way they do business and allowing them to succeed in e-commerce. The long term vision is to build a complete, cross-border, e-commerce platform that drives value to both merchants and consumers.
「順豐到+」是一個全新之物流配送服務選項,特別設計予不同範疇的電商客戶使用。結合當天即達及隨時自助取件之優點,提供靈活且高時效物流服務,終端用戶可隨意選擇安坐家中或於順便智能櫃全自助方式取得快件。
「順豐到+」服務旨在為電商客戶提供點到點的一站式物流解決方案,打破傳統物流配送的舊有模式,將購物後即日送貨成為習慣,令商家及終端客戶達至雙贏局面。