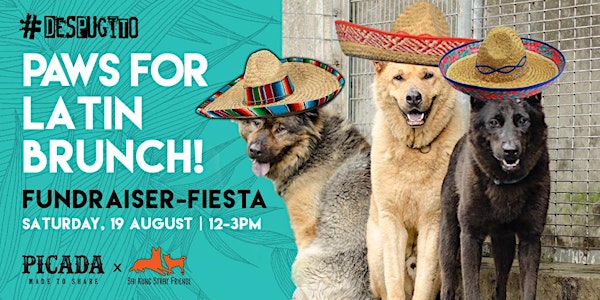 Paws For Latin Brunch! | Sai Kung Stray Friends Fundraiser-Fiesta | #desPUGito
When and where
Location
PICADA 2F + 3F Terrace 29 Wyndham Street Central Hong Kong
Description
Sai Kung Stray Friends Foundation Invites You To 'Paws For Latin Brunch' on August 19 at PICADA - Join For Free-Flow DRINKS from 3-5pm for $350 including red/white wine, beer & house spirits & continue the Pooch Party - hang out on the Oasis Terrance or at the Picada Bar!
---
Paws For Latin Brunch!
Sai Kung Stray Friends Fundraiser-Fiesta | #desPUGito

Saturday, 19 August | 12-3pm
Share a moment for our four-legged friends,

Save lives over delicious Latin brunch

$500 (inclusive of ticket fee) per person
$450 for first 50 'Early Paws' tickets

For exciting appetiser buffet, mains & dessert

Enjoy free-flow cava, beer and Picada's Salty Chihuahua cocktail

Wine for tables of 4 or more
Each ticket donates to 100+ Sai Kung Strays like 3 Amigos, Homer. Holby & Holly in need of forever homes.

Events
12-1pm: Meet the Sai Kung Strays on the terrace

2pm: Poodle Piñata - great for kids

2.30pm: Raffle

Latin Band

Special visit from
Kellett School
's 14 year old, Ansh Sahay

$100,000+ FringeBacker Sai Kung Stray Friends Foundation success story

#desPUGito 2 person Latin Brunch giveaway!
To WIN brunch for you and a friend - all you have to do:
1) Share a snap of your favourite dog (be it your own, a cartoon or movie dog - even a selfie using a Snapchat-style dog mask!)
2) Use
#desPUGito and tag
@saikungstrayfriendshk on Facebook or @sksff_ on Instagram
Creative entries will be selected before August 14th - good luck!
For more on
Sai Kung Stray Friends Foundation
:

www.facebook.com/saikungstrayfriendshk

www.instagram.com/sksff_

www.saikungstrayfriends.net

Picada

www.facebook.com/picadahk

www.instagram.com/picadahk

www.picada-hk.com