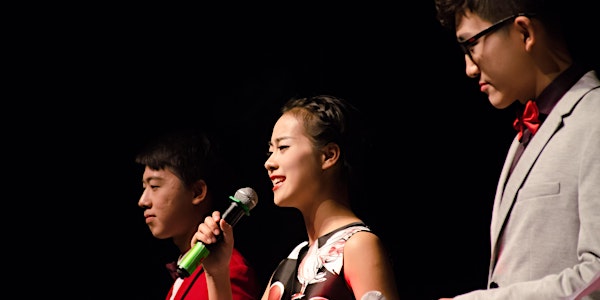 Parents Workshop (Online) – Prepare your Child for Speech Festival 2021
Help your child prepare for the Hong Kong Schools Speech Festival 2021 at home
About this event
Over the years, Trinity College London (Hong Kong) has been organising workshops to help English teachers at primary and secondary levels to prepare students for the Hong Kong Schools Speech Festival. Thousands of teachers have received our training in the past. This year, we are excited to extend our audience by offering training workshops to parents.
This online workshop has been designed to help parents find out more about how the Hong Kong Schools Speech Festival works, the benefits of taking part, what to expect, and most importantly, what they can do at home to best support their child in preparation. Suitable for Parents whose child(ren) will be entering in the Solo Verse and Prose Speaking (English) category of the 73rd Hong Kong Schools Festival, 2021.
The Hong Kong Schools Speech Festival is one of the largest annual inter-school performing-arts events in the city. Through participation in the Speech Festival, children will be given an excellent opportunity to develop their interest in English and to gain confidence in speaking English in public.
多年來,倫敦聖三一(香港)一直舉辦工作坊,幫助中小學英語教師準備學生參加香港學校朗誦節。過去數以千名教師已經參加了我們的培訓課程。今年,我們很高興能向家長提供工作坊以擴大我們的受眾範圍。
此網上工作坊旨在幫助家長了解香港學校朗誦節的運作模式、參加比賽的好處、預期結果,以及最重要的是,家長可以在家中如何幫助孩子準備朗誦節。此工作坊適合子女將參加2021年第73屆香港學校朗誦節(英文朗誦)Solo Verse及Prose Speaking的家長。
香港學校朗誦節是香港最大型的年度校際表演藝術活動之一。透過參加朗誦節,孩子將獲得一個培養英語興趣,及加強公開英語演講信心的機會。
Trainer:
Mary Ann Tear is a senior examiner for Trinity College London and a teacher trainer. She is also a member on the judging panel for the ESU Public Speaking Competition, a British Federation adjudicator, choreographer, director and Performing Arts lecturer. Mary Ann is now based in Singapore as a Performing Arts and Communication Skills consultant but she also continues to train, teach, adjudicate and examine.
Mary Ann 現為倫敦聖三一的資深戲劇考官及培訓導師﹐具多年為香港校際朗誦節及多過國際比賽擔任評判員的經驗。Mary Ann現居新加坡﹐主要工作為教師培訓﹑大學講師﹐並為不同院校的戲劇及公開演說課程擔任顧問。
Please note:
The workshop will be conducted in English. 此工作坊以英語進行
Fees are non-refundable. 費用不設退還
Whilst the workshop will support parents in preparing their child(ren) for the Speech Festival, the set pieces for 2021 will not be discussed. Parents are welcome to suggest pieces of previous years for discussion. Please send your pieces by email exams@trinitycollege.hk 工作坊將幫助家長為孩子準備朗誦節,但並不會討論2021年的指定誦材。我們歡迎家長提出往年的誦材以作討論,家長可把誦材以電郵方式發送至 exams@trinitycollege.hk
Parents are encouraged to turn their video on and actively engage during the online workshop. 我們鼓勵家長開啟視像鏡頭﹐積極參與。
For the best experience, attendees should have:
a computer or ipad style device (a phone will also work)
stable internet access
a headset with microphone
a webcam
Teachers will receive Zoom meeting ID by email three days prior to the online workshop. Please join the zoom meeting with your school name, followed by your registered name.
Contact us at 2142 3921 or exams@trinitycollege.hk if you have any questions.