Description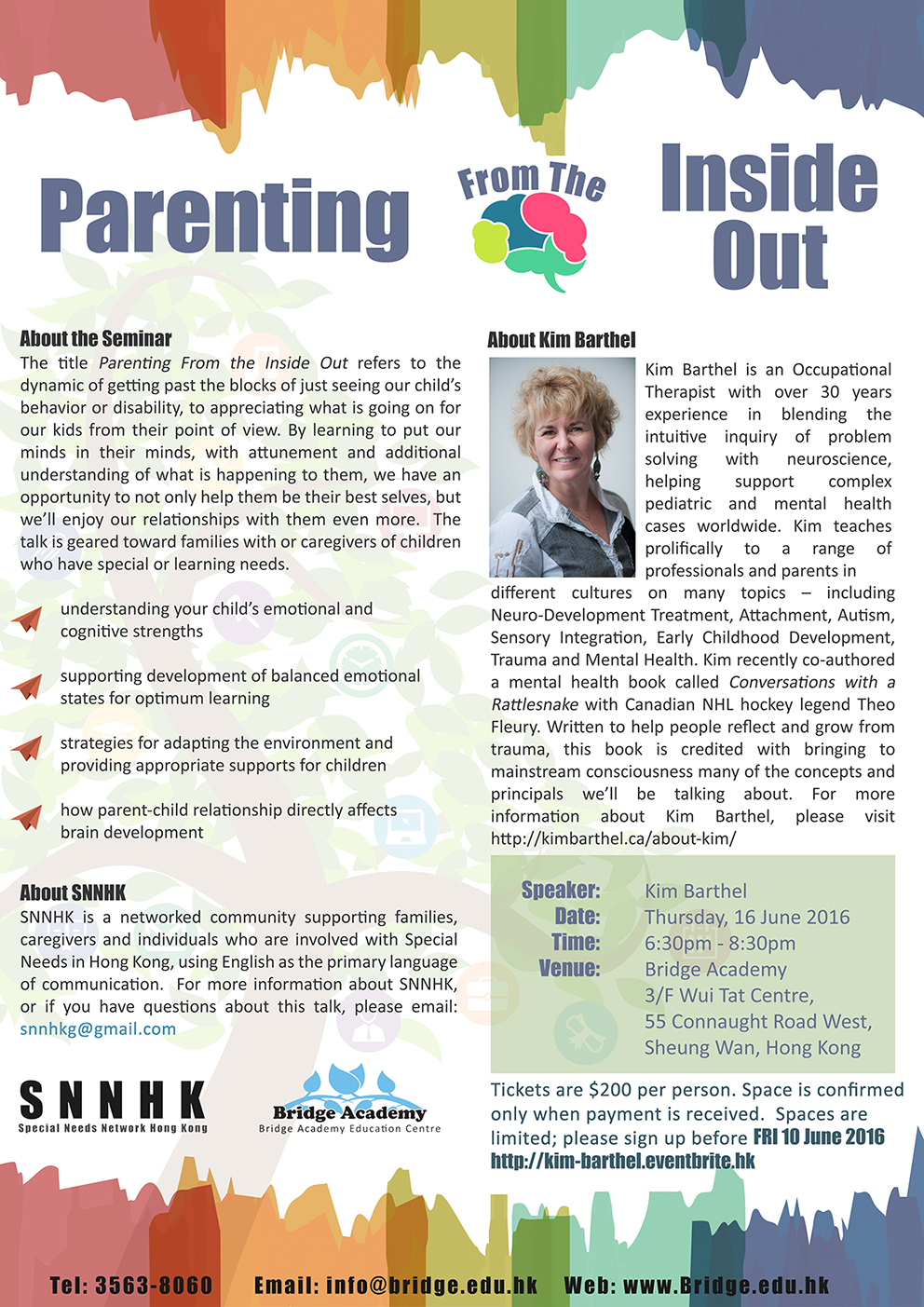 ---
Parenting from the Inside Out
The title Parenting From the Inside Out refers to the dynamic of getting past the blocks of just seeing our child's behavior or disability, to appreciating what is going on for our kids from their point of view. By learning to put our minds in their minds, with attunement and additional understanding of what is happening to them, we have an opportunity to not only help them be their best selves, but we'll enjoy our relationships with them even more. The talk is geared toward families with or caregivers of children who have special or learning needs.

Understanding your child's emotional and cognitive strengths?

Supporting development of balanced emotional states for optimum learning?

Strategies for adapting the environment and providing appropriate supports for children??

How parent-child relationship directly affects brain development?
About Kim Barthel
Kim Barthel is an Occupational Therapist with over 30 years experience in blending the intuitive inquiry of problem solving with neuroscience, helping support complex pediatric and mental health cases worldwide. Kim teaches prolifically to a range of professionals and parents in different cultures on many topics – including Neuro-Development Treatment, Attachment, Autism, Sensory Integration, Early Childhood Development, Trauma and Mental Health. Kim recently co-authored a mental health book called Conversations with a Rattlesnake with Canadian NHL hockey legend Theo Fleury. Written to help people reflect and grow from trauma, this book is credited with bringing to mainstream consciousness many of the concepts and principals we'll be talking about. For more information about Kim, please visit http://kimbarthel.ca/about-kim/


Date:
16 June 2016 [Thursday]
Time:
6:30pm - 8:30pm?
Registration:
Tickets are $200 per person. Space is confirmed only when payment is received. Spaces are limited; please sign up before Friday 10 June 2016
http://kim-barthel.eventbrite.hk
Venue:
Bridge Academy?
3F, Wui Tat Centre, 55 Connaught Road West, Sheung Wan
Organiser of Parenting from the Inside Out
Bridge Academy Education Centre is an approved educational institute in Hong Kong providing comprehensive early intervention and academic programmes for children with learning difficulties aged 15 months and above.  Bridge Academy has separate English, Cantonese, and Mandarin speaking programmes.  The children we support have a wide spectrum of challenges including Autism Spectrum Disorder (ASD), Dyslexia, Dyspraxia, Global Developmental Delay, Cerebral Palsy, Down Syndrome, Attention Deficit Hyperactivity Disorder (ADHD), as well as a variety of learning difficulties.