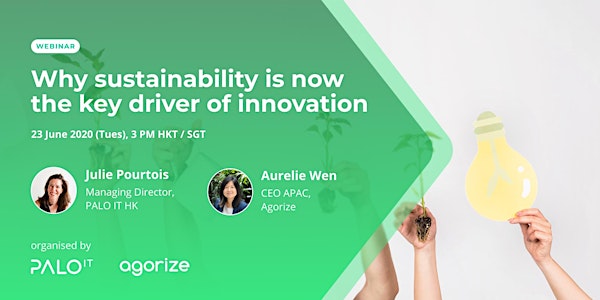 Palo IT x Agorize: Why sustainability is now the key driver of innovation
In collaboration with Palo IT, join us on a virtual webinar to explore why sustainability is now the key driver of innovation.
About this event
In this unique moment, it's crucial to incorporate more sustainable practices into our business models. The driver behind this change? Innovation. As we search for new ways to recover from economic downturns, we must look ahead to transform the way we do business.
Join Julie Pourtois, Managing Director of PALO IT, and Aurelie Wen, CEO APAC of Agorize, in a fireside chat on how they're pushing forward sustainable business practices through innovation, and the unique challenges they've faced in doing so.
The 40-minute fireside chat will be followed by a Q&A session.
You'll learn more about:
Real-world case studies of sustainable corporate innovations
Actionable advice to get your own organisation on the path to sustainable innovation
The rise of purpose-driven organisations and sustainability certification programs
EVENT DETAILS
Date: Tuesday, 23rd June 2020
Time: 3pm HKT
Speakers:
Julie Pourtois is the Managing Director of PALO IT Hong Kong, an aspiring B Corporation, global innovation consultancy, and Agile software development company dedicated to helping organisations embrace tech as a force for good. With 15+ years of experience in IT and services, she's worked with clients across a diversity of industries in rapidly launching products and services, creating new business models and preparing leadership and culture for the future, all through the lens of positive impact and sustainability.
Aurelie Wen is CEO APAC at Agorize. She's fascinated by how crowds can foster innovation and solve problems. Her company connects big businesses with internal and external innovators through an online collaboration platform, engaging a community of 5 million employees, students, and startups in 185 countries. She is regularly invited to talk about entrepreneurship, diversity and inclusion in tech, open innovation, and hackathons at conferences such as Elevate, French Founders Online Summit, Microsoft Ignite, Startupfest, HRTech Summit, and Startup Canada Awards.
Register Now!
*PLEASE NOTE: Access link to webinar will sent closer to event date