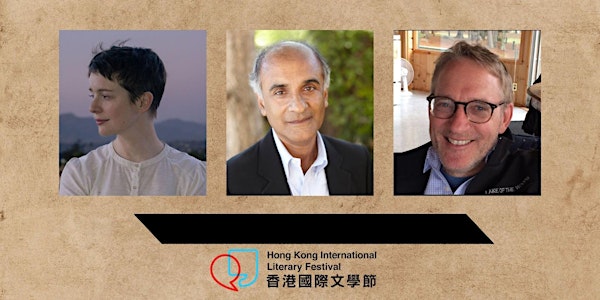 P Iyer & E Mandel with J Hildebrandt | Books I've Read ...
Maureen Tai in conversation with Pico Iyer & Emily St John Mandel with Jim Hildebrandt Books I've Read & Why You Should Too.
By Hong Kong International Literary Festival Ltd
Date and time
Starts on Sat, 11 Mar 2023 18:00 HKT
Location
Fringe Dairy 2 Lower Albert Road hong kong, HKI Hong Kong
About this event
Join acclaimed writer and global traveler Pico Iyer (The Half Known Life) and best-selling novelist Emily St John Mandel (Sea of Tranquility) in an illuminating conversation with avid reader and book collector, Jim Hildebrandt about the power of books as they discuss their favourite reads and why you should read them too.
Expect to make a beeline to the nearest Bookazine afterwards! Moderated by Maureen Tai.
Pico Iyer and Emily St. John Mandel's appearances are made possible by the generous support of the U.S. Consulate General Hong Kong and Macau.
Pico Iyer is the author of 16 fiction and non-fiction books, which have been translated into 23 languages. He has been a regular essayist for 36 years for Time, The New York Times, Harper's, the Financial Times and more than 250 periodicals across the world. He has also written a screenplay for Miramax and many liner-notes for Leonard Cohen. His four talks for TED have received more than 11 million views, and he hosts his own onstage conversation series in California, "Speaking with Pico." Born in Oxford, England, to parents from India, he was educated at Eton, Oxford and Harvard, and at Oxford received a Congratulatory Double First. In the summer of 2019 he served as Ferris Professor at Princeton, Guest Director of the Telluride Film Festival and the first official writer-in-residence at Raffles Hotel Singapore. His latest book, The Half Known Life, is a work that in some respects brings together his earlier books on globalism, stillness, Islamic mysticism and forgotten places across the planet.
Emily St. John Mandel is the multi-award winning author of six novels, including her most recent, Sea of Tranquility, in 2021. She also writes an annual column, Year in Reading, for The Millions, an online publication devoted to books, arts, and culture. Her books have been translated into over 30 languages and her gripping 2014 novel, Station 11, set in a post-pandemic apocalyptic world, was made into a limited series for HBO Max. Mandel is a master at creating alternative worlds, which her characters slide seamlessly in and out of in an effort to make sense of their experience. She makes the extraordinary ordinary, gently guiding readers to reflect on infinite possibilities and ponder the human experience. Her novel, The Glass Hotel, was selected by Barack Obama as one of his favourite books of 2020. She lives in New York City and Los Angeles.
Jim Hildebrandt is an avid reader and collector of the best novels of the last 75 years, working his way through a very long list of award winning literature. To the extent possible, he is trying to be encyclopedic in this pursuit. Hildebrandt works in the Asia private equity industry and has been based in Hong Kong since 1993. He graduated from the University of Toronto Law School, and the Stanford Graduate School of Business.
About the organiser
Hong Kong International Literary Festival Ltd.
The Hong Kong International Literary Festival (HKILF), founded in 2000, is an annual event held over ten days in autumn, featuring established and emerging writers from around the world in a programme that includes discussions, literary lunches and dinners, workshops, lectures, debates, book signings, and readings.
The stellar list of past HKILF authors includes literary luminaries such as Seamus Heaney, Louis de Bernières, Colm Tóibín, Jung Chang, and Yann Martel.
HKILF is organized and coordinated by Hong Kong International Literary Festival Limited, a non-profit, charitable literary arts organization which also manages the annual Young Readers Festival.
HKILF brings writers and book lovers together at events that allow them to share ideas.
Hong Kong is uniquely positioned to attract not just the best authors and thinkers in Asia, but globally. The city that built itself on the exchange of goods, is now also the region's focal point for the exchange of ideas.
Literature makes us think, it gives us new perspectives. HKILF starts conversations that build a better society.