Description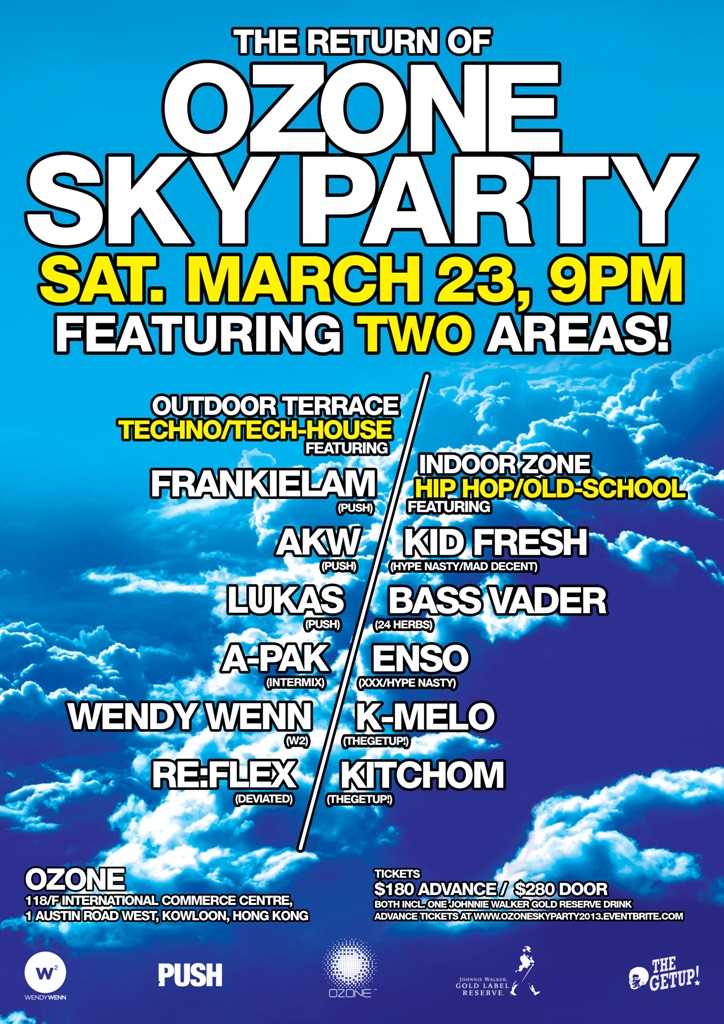 Last year, the Ritz-Carlton's OZONE bar and local dance music promoters PUSH introduced the SKY Party series, which became some of the biggest events Hong Kong witnessed throughout the whole of 2012.
At each of the three events, thousands of party people descended on the outdoor terrace of the world's highest bar to party to sounds provided by a selection of the city's top DJs while Hong Kong's magical skyline glittered way down below their feet.

And for the first SKY Party of 2013, we're coming back with our biggest and best event yet – with TWO separate areas featuring more than 10 top local DJs spinning everything from techno and house to hip hop and old school funky tracks.

On the outdoor terrace will be a techno and tech-house area featuring the PUSH DJs Frankielam, Lukas and AKW, supported by the ever-popular Wendy Wenn, Re:flex (seen regularly at top club Fly) and local favourite A-Pak.

And at the indoor area, dropping a selection of old-school hip hop and funky sounds will be the dynamic duo Kid Fresh and Enso (from top Volar event Hype Nasty), Bass Vader (aka Ghost Style from 24 Herbs), and the funky twosome K-Melo and Kitchom (from popular old-school event TheGetUp!).

As it's the biggest SKY Party lineup yet and also our first event of 2013, advance tickets are highly recommended!

Ozone SKY Party 2013
Sat, Mar 23, 9pm
Featuring TWO areas!

Outdoor terrace - techno/tech-house featuring
Frankielam (PUSH)
AKW (PUSH)
Lukas (PUSH)
A-Pak (Intermix)
Wendy Wenn (W2)
Re:flex (Deviated)

Indoor zone - hip hop/old-school featuring
Kid Fresh (Hype Nasty/Mad Decent)
Bass Vader (aka Ghost Style from 24 Herbs)
Enso (XXX/Hype Nasty)
K-Melo (TheGetUp!)
Kitchom (TheGetUp!)
Tickets:
Advance: HK$180 (inc. one Johnnie Walker Gold Reserve drink)
Door: HK$280 (inc. one Johnnie Walker Gold Reserve drink)
Venue:
Ozone
118/F International Commerce Centre
1 Austin Road West, Kowloon, Hong Kong