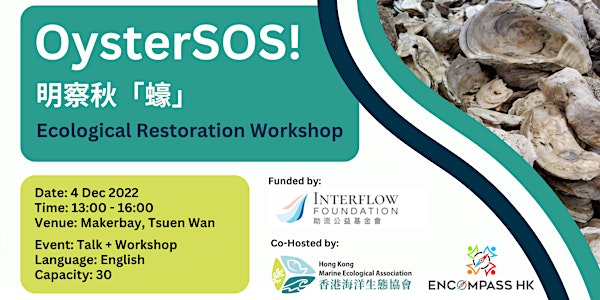 OysterSOS! 明察秋「蠔」Ecological Restoration Workshop
OysterSOS! 明察秋「蠔」Oyster Reef Restoration Workshop
When and where
Location
MakerBay Tsuen Wan (HQ) 38-40 Chai Wan Kok Street #Flat C, 7/F Tsuen Wan, NT Hong Kong
About this event
Marine ecosystems and biodiversity are important assets to the earth and the human race. Land reclamation is a major cause of the degradation of marine ecosystems in urban environments. Replacing natural shorelines with artificial seawalls has brought deleterious effects on marine ecosystems and biodiversity. To restore the marine ecosystems and biodiversity at artificial seawalls, marine ecological scientists devised a soft engineering method to revitalise the ecosystems at seawalls by deploying oyster shell strings to create microhabitats for marine organisms.
This workshop aims to provide education regarding marine ecosystems and biodiversity and allow participants to take part in marine ecological restoration. This workshop encompassed two sections: 1) a talk about marine ecosystems and biodiversity, the importance of oyster reefs and the issue of reclamation and artificial seawalls, and 2) a workshop on the fabrication of oyster shell strings. The fabrication involves drilling oyster shells and stringing the shells up with a metal wire. The oyster shell strings will be deployed at artificial seawalls at Lamma Island or Causeway Bay for the rehabilitation of marine ecosystems and biodiversity. Participants can engage with ecological scientists from the eco-shoreline research team.
* This event is funded by Interflow Foundation, and it is free of charge thus.