「Oxford MBA Information Session 英國牛津大學商學院MBA資訊日」

Saturday, 20 October 2018 from 12:30 to 15:00 (HKT)
Event Details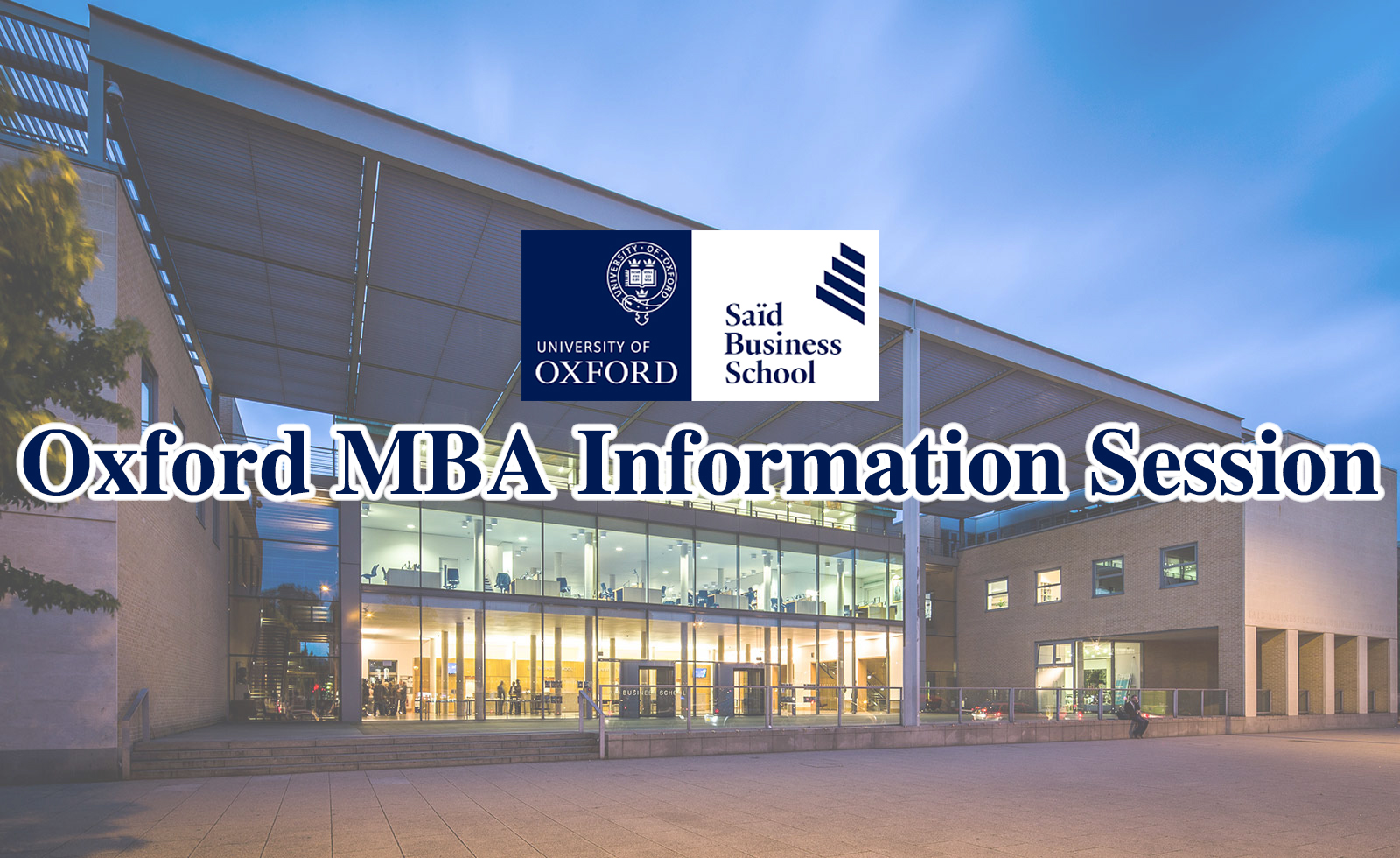 Date: 20th October, 2018 (Saturday)
Time: 12:30pm – 3:00pm
Address: Amber Education Premier Center 
Room 1208-11, Tai Yau Building, 181 Johnston Road, Wan Chai, Hong Kong

Dream of entering a world-class business school, meeting students from more than 140 countries, helping you build up business network and plan your career path, please come to learn more about the Oxford MBA program. 
The MBA Recruitment Team will share details about our world-class Oxford MBA programme, Saïd Business School, the course curriculum, scholarships, and application requirements ahead of our 2019-20 application deadlines.
Due to limited capacity, interested parties with at least two years working experience, please register on Eventbrite and then email your CV to ken.li@amberedu.com.hk, we will review your registration and then confirm your place by email.
「英國牛津大學商學院MBA資訊日」

日期: 2018年10月20日(星期六)
時間: 12:30pm - 3:00pm
地點: 琥珀薈香港灣仔莊士敦道181號大有大廈1208-11室
夢想進入世界一流的商學院,與超過140個國家的學生交流,幫助你建立人際網絡,規劃好自身的職業道路。讓你的事業更上一層樓,不妨前來了解Oxford MBA 課程。  
世界頂尖商學院University of Oxford, Saïd Business School(牛津大學商學院)將於10月20日(星期六)下午12時半至3時於灣仔琥珀薈舉行「Oxford MBA Information Session」,MBA收生代表會到場講解申請流程、獎學金以及其他有關事宜!
由於座位有限,有意出席的人士必須要有最少兩年的工作經驗,並先在Eventbrite登記,其後把履歷表電郵至ken.li@amberedu.com.hk,我們會通過電子郵件確認成功登記人士。
When & Where

Amber Education Premier Centre
Room 1208-11, Tai Yau Building, 181 Johnston Road, Wan Chai, Hong Kong

Hong Kong SAR China

Saturday, 20 October 2018 from 12:30 to 15:00 (HKT)
Add to my calendar
Organiser
琥珀教育創辦於1999年,為超過100間英國著名大學的直接官方代表,及與數百間英國中學合作,代理院校屬全港之冠。我們每年為過千名香港學生提供免費申請,協助入讀英國著名學府,享譽英國高等教育機構。琥珀教育作為海外院校的重要合作伙伴,致力提供優質服務,服務範圍涵蓋留學評估、UCAS諮詢、入學申請、安排考試、代辦簽證、住宿、轉科、轉校及代購機票等。琥珀教育特設的倫敦監護人服務中心 (Amber Guardian Centre),提供專業可靠的監護人服務,為家長分擔照顧身在英國的學生,與他們保持緊密聯繫,讓學生和家長得到一站式的升學服務。