Change and Accountability Programme based on the 8 steps of Change by John Kotter that will support you to define your goal and achieve it.
About this event
Live Webinars on May 17th, May 24th, May 31st, June 7th, and June 21st. @3pm HK time.
Bring a friend - and you both will get a 50% discount off the full programme price.
We all know the impact that change can have on our lives, whether it is change related to your current situation; related to the impact Covid-19 has on your life, career changes; moving; or involving family dynamics. Change is essential to growth; we must change to grow. In order for change to be effective and lasting, it takes something more than motivation and desire. It is about removing the obstacles for change, by uncovering our true goal. Together we will work to make change 'stick' and ensure that you come out it of this process with new information, new skills, that make your life better
How it's Done:
Clarify Your Goal. "People with goals succeed because they know where they're going." - Earl Nightingale.
Define achievable steps to accomplishing your goal.
Working together will bring support and accountability to empower you in this process.
We will proactively review progress, celebrate wins, think of further actions, and work through any blockages and other issues.
The knowledge and tools you gain from this programme, will support you in making and achieving your goals and creating lasting change.
Your Change Programme:
5 online live group sessions (90 min) over a 2 months period
1 on-boarding coaching session before the group sessions start
Additional 5 sessions of one-on-one coaching in sync with the live sessions
A bespoke programme for individuals looking to accomplish their professional and/or personal goals.
Additional Take-Aways:
Learning to raise awareness of what might be impacting your motivation.
Forming a stronger mindset that allows you to be courageous and successful.
Common thinking traps and explore how your thought patterns interfere with your actions and emotions.
Activating your brain by getting an insight into the neuroscience of behaviour.
Experiencing how coaching works and its impact.
And many, many more!
The Programme is facilitated by Liad Nyman and Birgit Rappold
When Liad founded the Kadima Group her mission was simple: "I want to give people the tools they need to feel confident, powerful and happy. This happens when we are empowered to move forward and achieve our goals."
In her professional life, she have learned that 'a good system shortens the road to the goal'. This has been a cornerstone of her approach. "When we promote strategic thinking, constructive change and effective collaboration, we can work smarter, better and accomplish more."
Liad started her career as New York qualified Lawyer, in the Business Development sphere, working between partners, associates and executive teams to support and execute business goals in Asia for 10 years. Her focus is now working directly with clients to find solutions to business and professional challenges.
Birgit is the founder of Rappstone Professional Coaching and is a leading executive and professional Coach, certified by University of Texas at Dallas and ICF credentialed. Birgit has a master's degree in Leadership and Organizational Development from the University of Texas at Dallas, and a Master of Clinical Psychology degree from Ludwig-Maximillian's Universität, Munich and is a trained cognitive behavioral therapist. She is also a certified Pilates trainer and Mindfulness expert, seeing the importance of integrating the whole human being to achieve greatness. Birgit has been living in Asia for the past 13 years in 4 different countries and has worked with people across the globe.
Birgit's diverse professional experience in psychological, emotional and physical wellbeing and her engagement with various cultures uniquely positions her to support people in achieving their true passion, transformational goals and inner balance.
Programme Schedule: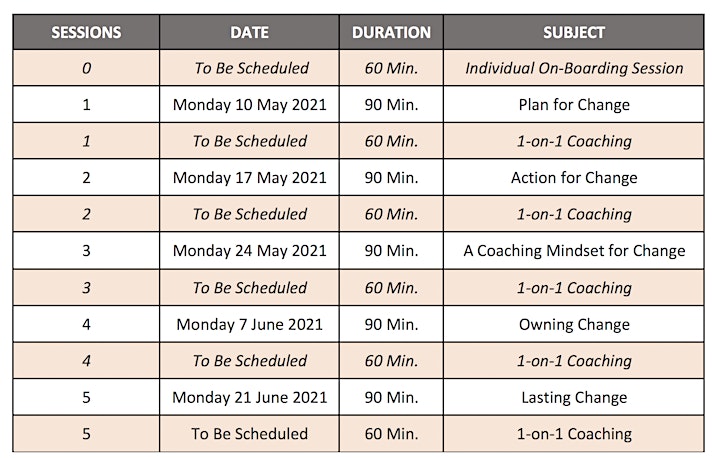 For further enquiries please email Birgit at birgit@rappstone.com or Liad at liad@thekadima.group with the subject line "Owning your Change ".