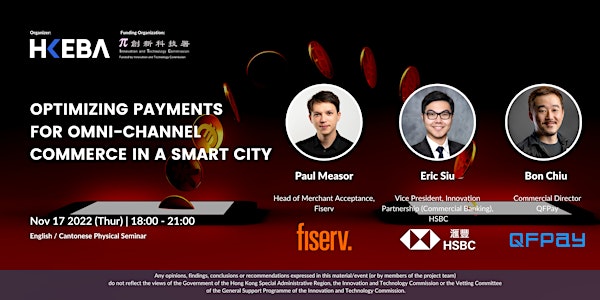 Optimizing omni-channel commerce through payments in a Smart City
Optimizing omni-channel commerce through payments in a Smart City
When and where
Location
The Hive Wan Chai 23 Luard Road Hong Kong, HKI Hong Kong
Refund Policy
Contact the organizer to request a refund.
About this event
Description:
Digital payments have evolved from a novelty to the norm. We are now living in an era where almost anything can be purchased online and payment is just a click away.
A digital wallet like PayMe, a smart point-of-sale (POS) solution like Smart Kiosk, or multiple payment options have been enhancing the customer journey experience. Besides providing ease of payment, digital payment offers a variety of other benefits to e-commerce businesses that can enhance their performance.
Attend this seminar to find out more about how Fiserv, HSBC, and QFPay digital payment options are affecting the e-commerce industry and their role in defining a smart city's blueprint!
受惠於數碼化改革,現在幾乎每筆支付都可以通過不同的支付平台或選項於網上完成。 數字錢包如PayMe 、Smart Kiosk 等智能銷售點 (POS) 方案或多種電子支付選項一直在增強客戶於支付上的體驗。 電子支付的好處不僅限於提高便捷性,還提供了眾多其他獨特的功能令電商於營運上發揮更大的效用。
參加本次研討會,了解更多關於 Fiserv、HSBC和 QFPay 的電子支付選項如何改革電商行業及這些支持方案在智慧城市藍圖中的角色。
Event Details:
Dates: Nov 17 2022 (Thursday)
Format: Physical Seminar
Time: 18:00 - 21:00
Language: English / Cantonese
Fee: $50 HKD
*COUPON CODE FOR FREE ADMISSION: HKEBA2022*
HKEBA and all supporting organizations' members could enjoy the exclusive benefits by entering the coupon code at the registration page. (For more details, please contact Ms Kiki Pang at kiki@hkeba.org / 56110953.)
Event Rundown :
18:00 - 18:30 | Registration
18:30 - 18:45 | Introduction
18:45 - 19:05 | Eric Siu Sharing
19:05 - 19:25 | Paul Measor Sharing
19:25 - 19:45 | Bon Chiu Sharing
19:45 - 21:00 | Closing, Free Flow Q&A Session and Networking
Speakers:
Paul Measor, Head of Merchant Acceptance, Fiserv
Eric Siu, Vice President (Innovation Partnership), HSBC
Bon Chiu, Commercial Director, QFPay

Acknowledgment of Support and Disclaimer
Any opinions, findings, conclusions or recommendations expressed in this material/event (or by members of the project team) do not reflect the views of the Government of the Hong Kong Special Administrative Region, the Innovation and Technology Commission or the Vetting Committee of the General Support Programme of the Innovation and Technology Commission.
此物品/活動由香港特別行政區政府的一般支援計劃資助:
在此刊物/本項目的任何活動中提出的任何意見、 研究成果、結論或建議,並不代表香港特別行政區政府及一般支援計劃評審委員會的觀點。
*Participants who join the seminar will receive email newsletter of HKEBA
*是次講座的參加者將收到本會經電郵發出的會訊。
贊助機構:
* Solution Forest Limited
* Hong Kong Wireless Technology Industry Association Limited (HKWTIA)
* Hong Kong Internet & eCommerce Association Limited (HKIECA)
* Communications Association of Hong Kong (CAHK)
* Hong Kong Association of Interactive Marketing (HKAIM)
* Hong Kong Software Industry Association
* SME Global Alliance Limited (SMEGA)
* Hong Kong PropTech Association (HKPTA)
* Tencent WeStart Hong Kong
* Brinc Limited
* Zerozone Solutions Limited
* Asia PropTech
* The Hong Kong Polytechnic University
* The Association of Cloud and
* Mobile Computing Professionals (ACMCP)
* Hong Kong Science and Technology Parks Corporation
* Hong Kong Federation of ECommerce
* E-Commerce Association of Hong Kong
* Lingnan University (Lingnan Entrepreneurship Initiative)
* Hong Kong Retail Management Association Limited
* EntreLink Limited
* Hong Kong Blockchain Indusry Association
* The University of Hong Kong
* CoCoon
* Hong Kong Retail Technology Association
* City University of Hong Kong
* Invest Hong Kong
* CUHK Business School
* Hong Kong Information Technology Federation