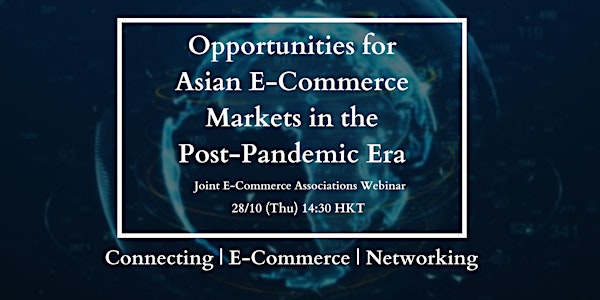 Opportunities for Asian E-Commerce Markets under Post-Pandemic Era
Want to know more about E-Commerce Development in Asia? The webinar gather different associations for you!
About this event
Under the advancement in Internet and digital technology, O2O business is growing stronger, retail, F&B, or other service providers, tend to open up the online channel to increase their exposure and business coverage through the internet. E-commerce service providers, end-users, or business users, lack a channel to exchange information, which leads to an obstacle in the development of E-commerce.
During this pandemic, people are forced to stay home and keep social distance. When global countries further tighten preventive measures, consumers have switched heavily to online purchases, driving the expansion of e-commerce towards business activities, buying habits and types of products.
This is an opportunity to learn about the E-Commerce market and development in Soth East Asia cities. Expanding and Networking with different associations to gain cooperation.
**Zoom webinar invitation code will be sent one day before