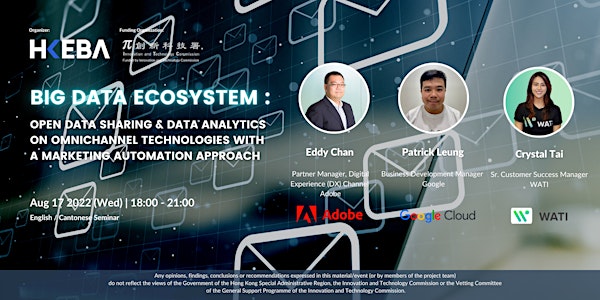 Open data sharing and data analytics on omnichannel technologies
Big Data Ecosystem — Open data sharing and data analytics on omnichannel technologies with a Marketing Automation Approach
When and where
Location
the Hive Sheung Wan 33-35 禧利街 Hong Kong, HKI Hong Kong
About this event
Description:
Sales & Marketing is also affected by Industry 4.0 and Smart City technologies! In light of new technologies involving big data and marketing automation, more companies are collecting data from different channels about consumer preferences and behaviors to establish a personalized and comprehensive marketing plan.
Attend this seminar to learn how Adobe, Google, and WATI plan and deploy marketing automation and product recommendation using consumer and market data available.
工業4.0及智慧城市對各行各業的營售及營銷有著很大的影響!隨著大數據和營銷自動化等新技術,愈來愈多企業從不同渠道收集消費者的偏好和行為等的數據,配合營銷自動化,建立全方位及個人化的營銷方案,推動銷售。
參加這次研討會,了解Adobe、Google及WATI如何策劃及部署營銷自動化及運用消費者和市場數據來推介合適產品。
Event Details:
Dates: Aug17 2022 (Wednesday)
Format: Seminar
Time: 18:00 - 21:00
Language: English / Cantonese
Fee: $50 HKD
*COUPON CODE FOR FREE ADMISSION: HKEBA2022*
HKEBA's members could enjoy the exclusive benefits by entering the coupon code at the registration page. (For more details, please contact Mr Tim Ng at tim.ng@hkeba.org / 69711791.)
Event Rundown :
18:00 - 18:30 | Registration
18:30 - 18:45 | Introduction
18:45 - 19:00 | Adobe Speaker Sharing
19:00 - 19:15 | WATI Speaker Sharing
19:15 - 19:30 | Google Speaker Sharing
19:30 - 20:10 | Panel + Q&A Session
20:10 - 21:00 l Closing & Networking
Speakers:
・Eddy Chan, Partner Manager - Hong Kong/ Taiwan, Digital Experience (DX) Channel, Adobe
・Patrick Leung, Business Development Manager, Google
・Crystal Tai, Senior Customer Success Manager, WATI

Acknowledgment of Support and Disclaimer
Any opinions, findings, conclusions or recommendations expressed in this material/event (or by members of the project team) do not reflect the views of the Government of the Hong Kong Special Administrative Region, the Innovation and Technology Commission or the Vetting Committee of the General Support Programme of the Innovation and Technology Commission.
此物品/活動由香港特別行政區政府的一般支援計劃資助:
在此刊物/本項目的任何活動中提出的任何意見、 研究成果、結論或建議,並不代表香港特別行政區政府及一般支援計劃評審委員會的觀點。
*Participants who join the seminar will receive email newsletter of HKEBA
*是次講座的參加者將收到本會經電郵發出的會訊。
贊助機構:
* Solution Forest Limited
* Hong Kong Wireless Technology Industry Association Limited (HKWTIA)
* Hong Kong Internet & eCommerce Association Limited (HKIECA)
* Communications Association of Hong Kong (CAHK)
* Hong Kong Association of Interactive Marketing (HKAIM)
* Hong Kong Software Industry Association
* SME Global Alliance Limited (SMEGA)
* Hong Kong PropTech Association (HKPTA)
* Tencent WeStart Hong Kong
* Brinc Limited
* Zerozone Solutions Limited
* Asia PropTech
* The Hong Kong Polytechnic University
* The Association of Cloud and
* Mobile Computing Professionals (ACMCP)
* Hong Kong Science and Technology Parks Corporation
* Hong Kong Federation of ECommerce
* E-Commerce Association of Hong Kong
* Lingnan University (Lingnan Entrepreneurship Initiative)
* Hong Kong Retail Management Association Limited
* EntreLink Limited
* Hong Kong Blockchain Indusry Association
* The University of Hong Kong
* CoCoon
* Hong Kong Retail Technology Association
* City University of Hong Kong
* Invest Hong Kong