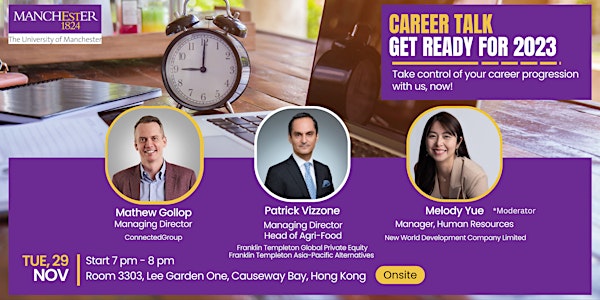 Onsite: Career Talk - Taking Control of Your Career
OnSite: Career Talk - Taking Control of Your Career Get Ready for 2023
When and where
Location
University of Manchester East Asia Centre Room 3303 Lee Garden One Causeway Bay Hong Kong
About this event
Taking successful control of your career trajectory is easier said than done. It requires a structured career development plan that goals, milestones and an actionable plan are clearly framed. And most importantly, it needs to be revisited and adjusted regularly.
Register to join us in this long-awaited on-site career talk, to find out more about taking control of your career progression and to get some of the latest insights into what the best recruitment companies in the world are looking for.
What to expect?
- Frameworks for proactively taking control of your career progression
- How to use "purpose" to navigate your career compass
- What recruiters and hiring managers are looking for – Dos and Don'ts
- How a University of Manchester MBA helped progress one's career
Who should come?
- Anyone who wants a fresh perspective on career planning
- Managers and executives who need inspiration for a career breakthrough
- HR professionals who oversee talent growth and management projects
Our Speakers:
Patrick Vizzone
Patrick serves as Managing Director and Head of Agri-Food for Franklin Templeton's Global Private Equity and Asia-Pacific Alternatives businesses.
He has held numerous senior corporate and investment banking leadership positions, most recently as International Head of Food, Beverage & Agribusiness, Head of Coverage and Alternate Chief Executive of ANZ Hong Kong. He also previously served as Asian Head of Institutional Banking, Asian Head of Food & Agribusiness and Alternative Chief Executive at National Australia Bank Hong Kong. Patrick has also held senior management roles at Rabobank and GE Capital.
Prior to his banking career, Patrick co-founded and developed a vertically integrated fresh produce supply chain management business in China. Patrick remains as a Board and Executive Committee Member of the International Fresh Produce Association where he also serves as Secretary-Treasurer.
Patrick served for 13 years on the Board of Directors of China Agri-Industries, the key Hong Kong listed subsidiary of the COFCO Group, China's largest agri-food enterprise.
He is a member of Manchester University's Global Leadership Board and President of The Hong Kong Foundation for the University of Manchester.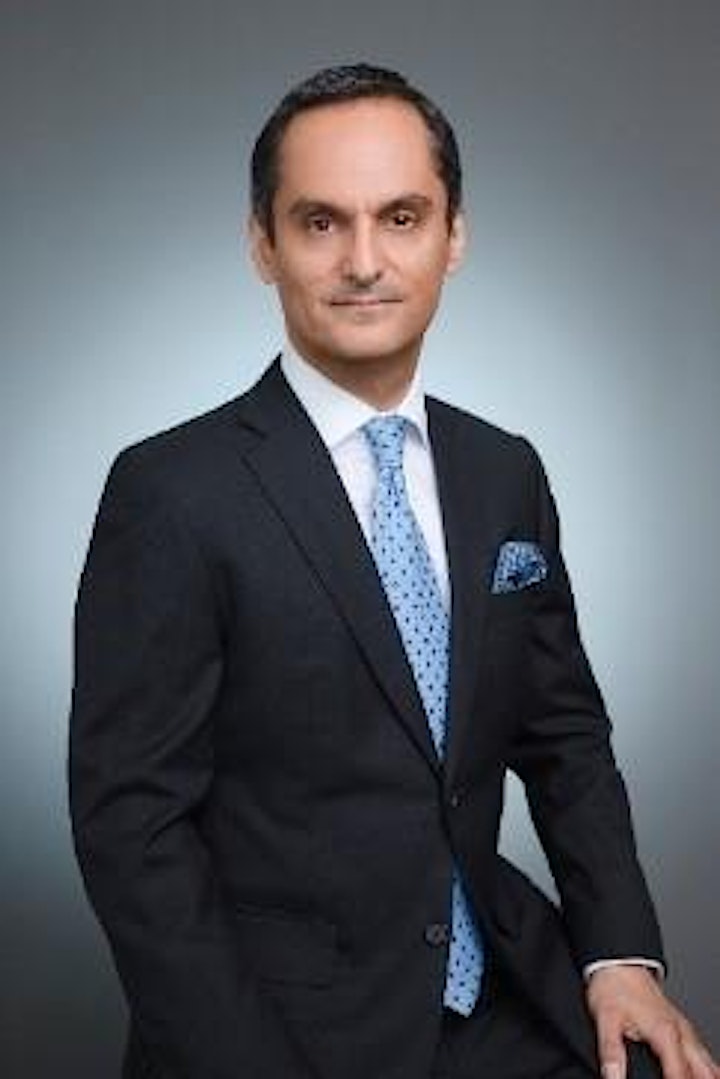 Mathew Gollop
Mathew has been in the search industry since 1997 and in Asia (with ConnectedGroup) since 2001. In addition to leading the business, Mathew engages with clients to discuss their operational and market strategy from CEO's office down through the business. He aligns ConnectedGroup's service offering across all functions and often operates as an account manager for key clients. Mathew still executes a number of searches each year and he and his team focus on complex and unconventional searches, often in new industries. He has been integral in building our major NGO accounts and also manages assignments in this space if they fall outside of our normal functional coverage.
In addition Mathew has helped define and shape ConnectedGroup's social purpose and his team support the not for profit community in Hong Kong, connecting talent to help amplify worthy causes.
Connect with Mathew's team: https://www.connectedgroup.com/