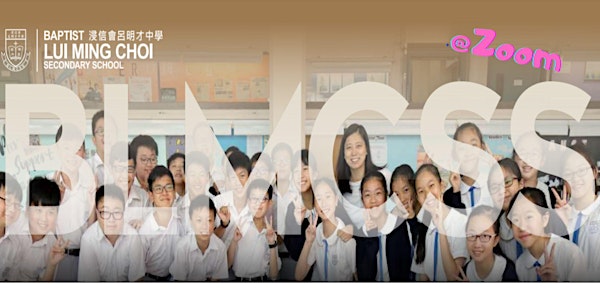 Online S1 Admission Talk 網上實時中一入學講座 @ ZOOM(2023.01.07)
Information Day (ONLINE)
When and where
Location
Baptist Lui Ming Choi Secondary School 11 Yuen Wo Road, Shatin 沙田源禾路11號 New Territories 新界 Hong Kong Hong Kong
About this event
Briefing Sessions for 2023/24 S1 Admission
Part 1:School Profile
About school vision, philosophy, values and beliefs, please refer to the video clip attached below "S1 Admission Talk (Part 1)". Parents should visit the school website to check out other video clips about the school information prior to the talk.
Part 2:Online S1 Admission Talk @ Zoom
Details:
• Date:07 Jan 2023 (Sat)
• Time:13:00 - 14:15 / 15:00 - 16:15
• Venue:online, ZOOM
• Content:Admission Talk (Part 2) including admission criteria, admission interview, Q&A
• There will be a Kahoot Quiz Game on S1 Admission Talk (Part 1) during the S1 Admission Talk (Part 2). Do not miss the chance to win a prize.Quota: 500 seats each session
Registration:
1. Select one session and fill in the registration form
2. Confirm registration
3. Each family can only register once. Duplicated registration will not be entertained.
Enquiries
Executive Officer, Ms. Tsui at 2692 2161 (Mon - Fri : 9:00 a.m. - 5:00 p.m.) 
2023/24中一簡介會
第一部分: 學校簡介
有關學校願景、理念、價值和信念,請參看以下短片「中一簡介會 part 1」。亦請家長預先到學校網頁觀看其他有關學校資訊短片。
第二部分:網上實時中一入學講座
詳情:
• 日期:2023年1月7日 (六)
• 時間:下午1時正至2時15分 / 下午3時正至4時15分
• 地點:網上, ZOOM
• 內容:入學講座(第二部份) 包括收生準則、入學面試、解答問題
• 於入學講座(第二部分)進行有獎Kahoot問答遊戲,內容為入學講座(第一部分)
• 名額:每場名額500
報名辦法:
1. 選擇場次並填寫資料
2. 確認登記
3. 每個家庭只需註冊一次,重複註冊將不獲受理。
查詢
行政主任 徐小姐 26922161 (星期一至五 上午9:00至下午5:00)