This course will help you to acquire knowledge of Persian language/ Farsi which is spoken by about 110 million people in different countries
About this event
Learn Persian / Farsi
Persian Language/ Farsi has a rich history for over a thousand years. Since long past, Persian has been present and influential outside Iranian territory. There is still a great amount of interest and enthusiasm, and various grounds and motivations for learning Persian outside Iran. There are also many invaluable masterpieces by poets and authors such as Ferdowsi, Khayyam, Attar, Rumi, Saadi and Hafiz in this language that has made many people who are willing to acquire this language and familiarize with the Islamic and Iranian culture latent in the literal and scientific resources interested.
This course will help you to acquire knowledge of Persian language/ Farsi which is currently spoken by about 110 million people mainly in Iran, Afghanistan and Tajikistan. After completion of each term, you will receive a certification of completion with which you can register for the upper level to continue your education. Upon graduation and subject to exam success you will be awarded the Certificate.
Details of Registration for the First Term:
Time (Tentatively): August – November 2021
Instructor: Mr. Aliasghar Bagheri, PhD in Persian/Farsi Language and Literature
Medium of Instruction: English
Location: Online platform (Zoom)
Tuition Fee (Including Book and necessary educational materials)
General: 1000 HK$
Special offer for students and academics: 500 HK$
Syllabus
20 sessions involving Speaking, Listening, Reading and Writing.
Terms & Condition
Once you signed-up, the programme is non-refundable and non-transferable.
Payment
Payment of tuition fee can be made by deposit to the account of the Consulate General of the Islamic Republic of Iran in Hong Kong, in Bank of China (Hong Kong); Account no.: 012-884-00107500 or other personalized options which are available upon completion of registration.
Your place will only be confirmed upon receipt of payment as confirmed by the Consulate General.
To receive the Registration Form, please send an email to Irancc@irancosulate.org.hk.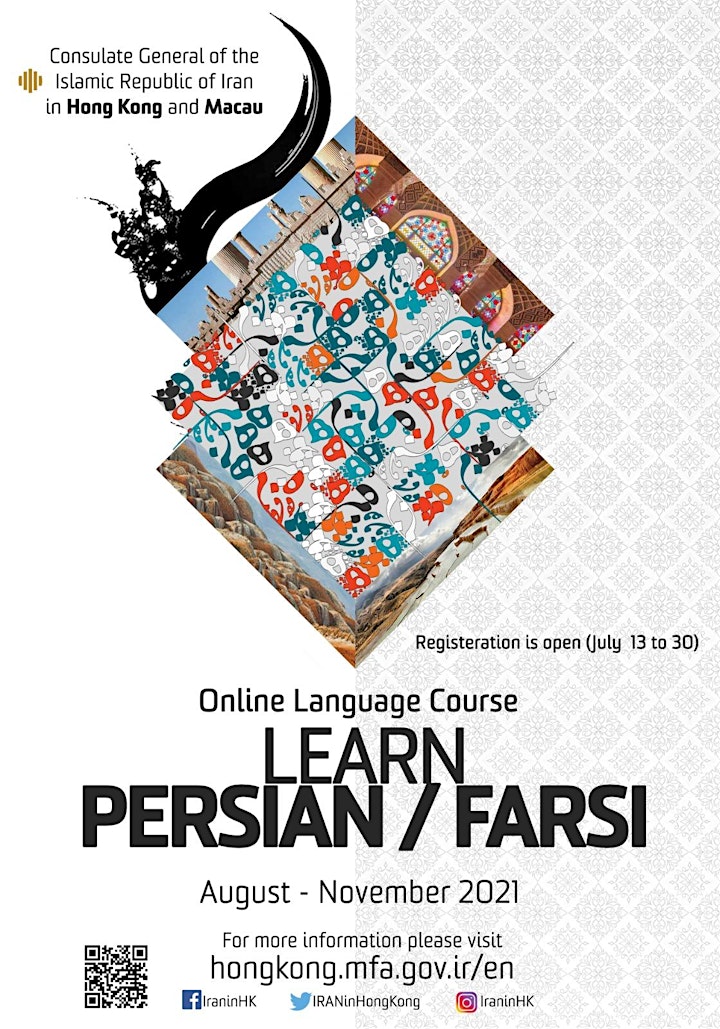 Organiser of Online Persian/ Farsi Learning Course