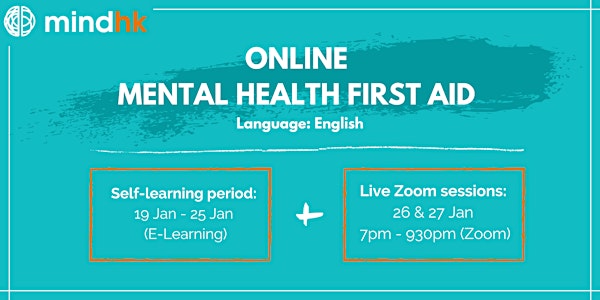 Online Mental Health First Aid Standard Course Jan2022
Mental Health First Aid Standard Course - An internationally recognised and accredited qualification.
Refund Policy
Contact the organiser to request a refund.
About this event
The Online MHFA course is constructed of TWO parts:
Part A - 5-7 hours of online self-learning (19 - 25Jan)
Part B - 2 virtual sessions over Zoom with our MHFA trainers (26&27 Jan: 7pm - 930pm)
* Participants are required to complete 7hours of self-learning before entering the 2 Zoom sessions on 26&27 January (7pm - 930pm).
What is MHFA? An internationally recognised and accredited qualification. Just like physical health first aid, mental health first aid teaches practical ways to manage mental health symptoms and crises. Participants will gain a sound knowledge of a wide range of mental health diagnoses, ways to assess and directly help those experiencing a mental health problem, and how to effectively refer them to further support.
Mental Health First Aid (MHFA) will cover:
Basic knowledge about common mental health problems and related crisis situations
What you can provide as a lay person and when to get help
MHFA Action Plans
Intervening and managing mental health emergencies as a first responder like Panic attacks, Suicide, Self-harm and Addictions
Identify the resources available in the local community
Completion of this MHFA training will lead to being internationally certified in MHFA. A certificate will be awarded to participants with FULL attendance. All of our trainings are delivered by Mind HK staff or Mental Health Professionals. The minimum age for attendance is 18.
*This is not a course to train someone to become a mental health professional.
Please note again that the Online MHFA course is composed of 2 stages:
A. Online E-Platform (19 - 25Jan). You are required to complete ALL modules before receiving links to the live Zoom sessions. (You will receive your e-platform login details by 19Jan)
B. 2 Live Zoom sessions (26&27Jan, 7pm - 930pm).
Please come to our office at 18B, One Capital Place, 18 Luard Road, Wan Chai during office hours (9am - 6pm) to collect your MHFA Booklets (for reference).
Mind HK DO NOT offer any refund or reallocation 1 week prior to ticket sales end.
This MHFA course is open to those who are currently located in Hong Kong only.
Please email training@mind.org.hk if you have any questions.