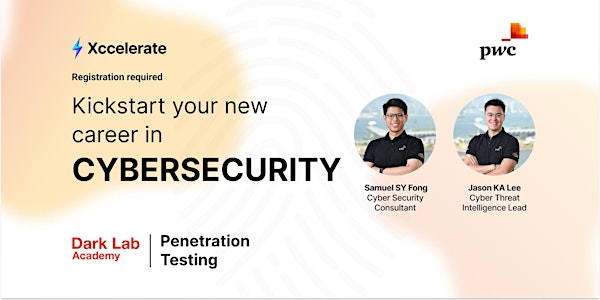 [ONLINE] Kickstart Your New Career in Cybersecurity
PwC Hong Kong and Xccelerate Global Hong Kong join forces to upskill and reskill talents to tackle cyber talent shortage
Date and time
Thursday, January 19 · 7 - 8pm PST
Location
Philippines Philippines Philippines, Philippine Philippines
About this event
This is an ONLINE event, please kindly register. The link would be sent to you via Eventbrite email 2 hrs before the event starts. Please keep an eye on it and check your spam folder.
Speakers : Jason KA Lee & Samuel SY Fong from PwC HK
The era of cloud computing, Internet of Things (IoT), automation and online collaboration tools has accelerated digital and human connectivity. These new hybrid human-digital ecosystems are often fragile, with the cyber threat landscape becoming increasingly sophisticated as malicious attackers take advantage for profitability, sabotage, and espionage. As organisations look to improve their cyber-resilience, they are faced with another problem - a talent shortage. This hurdle has jeopardised the ability of organisations to act swiftly and decisively to safeguard against dynamic cyber threats.
PwC Hong Kong ("PwC") recognises the need to act swiftly to reduce the cyber talent shortage, and has partnered with Xccelerate Global Hong Kong Limited ("Xccelerate") to prepare bespoke cyber-specific learning content that will help upskill and reskill talents. The aspiration is to serve up cyber content that is inclusive of all demographics and technical backgrounds. In this way, organisations and the wider society can have sustainable access to a talent pipeline that will aid them in protecting data and systems, mitigate cyber risks, and improve resilience against cyber threats.
We'll talk about:
The supply and demand on cyber security talent
Reasons for talent shortage
Cyber School and Bug Bounty program to address the talent shortage
Student's journey at Cyber School
Who is this session for?
The session is ideal for anyone from Hong Kong, Macau, China and Philippines seeking to get a taste of, get an overview idea, starting to pursue a career in cyber security specialty.
Event details:
📅 Thu 19 Jan
⏰ 19:00 - 20:00 (HKT)
💬 English
Upcoming cyber security course
https://xccelerate.co/en/courses/FTCS/
Reach out to our admissions staff Whatsapp (+852 68838583) if you have any questions on our courses or how Xccelerate can help you achieve your goals.
https://wa.me/message/763KA4IODN2TE1?src=qr
About Xccelerate
Xccelerate was founded in 2017 with the vision of bridging the tech talent gap in Hong Kong. We have reinvented education to employment experience to future-proof workforces. Find out how we work.
About the organizer
Founded on the vision that the greatest opportunity for improving lives is education, Xccelerate aspires to reinvent tech education to address the colossal talent challenges in Artificial Intelligence, Software Engineering, Data Science & Machine Learning, Blockchain and UX Design. We drive outcomes for individuals and enterprises by leveraging expert instructors, proprietary curriculum and a unique blended learning pedagogy.
Our campuses pioneer teaching innovation with graduates forming a unique talent pipeline for leading start-ups and MNCs to solve hiring challenges. Our learning and training platform empowers other organisations to keep ahead with technology acceleration.
Till date, Xccelerate has trained 3,500+ professionals and boasts a 91% hiring success rate in our immersive programs. We have powered enterprise training and graduate placements to various industry leaders including IBM, Johnson Electric, CX, AXA, Veolia, Zeroth.ai, Standard Chartered, and ANX.