A Guided Hypno Meditation Workshop with Aldo Privileggi
About this event
"Being the best version of yourself you can be".
Being guided into clarity by a master practitioner toward identifying, recognizing and becoming conscious of patterns of limitation is a fundamental key to releasing limitations from your subconscious mind that maybe keeping you stuck, or repeating patterns over and over that do not serve you.
Transforming these fears, anxieties, stresses, worries and other heavy energies into an energy that works with and for you is what we call "Positive Tranceformation and light-work".
Hypnotherapy and Hypno-Meditation provides great medium for targeting and transforming these issues, especially when it is guided by a seasoned expert in this field.
This 1.5 hour online group guided powerful healing hypno-meditation will use specially designed music soundscapes technologies to bring the left and right hemisphere of the brain into harmony.
Under the guidance of Balance Health Hong Kong expert hypnotherapist, the session will create deep relaxation, calmness and open up a tremendously beautiful opportunity for deep peace, clarity and holistic healing. The topic of the class will be dependent on the collective energy of the group. Aldo works intuitively and will tune in to the collective energy and guide the group through a healing experience and deep relaxation.
ABOUT ALDO PRIVILEGGI
Aldo is an intuitive hypnotherapist with a broad international experience. He has worked in the UK, USA., Australia, China, Hong Kong, Bali, Singapore, and others, in a journey of learning, growing and sharing. He is the author of "Man is Moving Beyond Sickness", a book full of tools for the transformation of oneself.
Aldo's strongest ability remains in separating out what is worthwhile supporting from what he calls the "beliefs", that are rooted in the subconscious but are of no further use to one's well-being, if not the direct cause of the condition.
"When we are aligned within, naturally our outside world will align automatically."
Through this method and principles, he has touched and transformed the lives of thousands to take 'action' and produce 'real results'. His sensitive and empathic nature have made him an extremely successful and powerful hypnotherapist and healer.
Aldo's specialisations:
○ Insomnia
○ Anxiety
○ Phobia
○ Smoking cessation
○ Stress
○ Weight Loss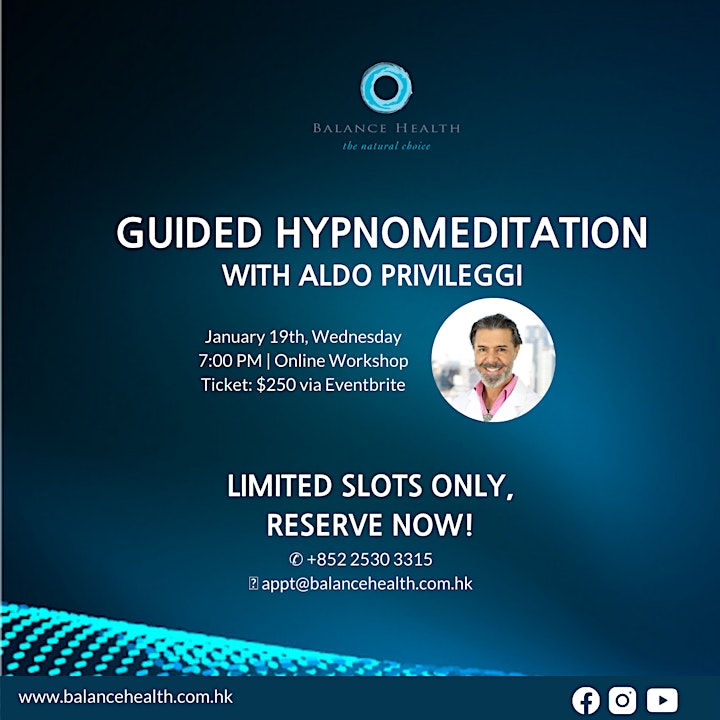 Organiser of Online Guided Hypno Meditation Workshop with Aldo Privileggi
Balance Health is a natural health clinic offering an alternative to the conventional treatments, as no single system of medicine has the answers to every medical problem. As one of Hong Kong's earliest natural alternative clinics, Balance Health has supported thousands achieving health and well-being in body, mind, emotions and spirit.
By integrating the principles of conventional and complementary medicine our international team of therapists is able to take a broader view – lifestyle, nutrition, emotions, behaviour patterns, and beliefs. Health and wellness is more than simply the absence of pain. Balance Health offers alternative therapies to provide the body with the opportunity to heal naturally, making it stronger and less susceptible to illness and disease.
Whether you have health issues and want to facilitate your healing process or are just looking for a moment to escape your busy life: We connect you to practitioners to offer treatments tailored to your individual wishes and needs.