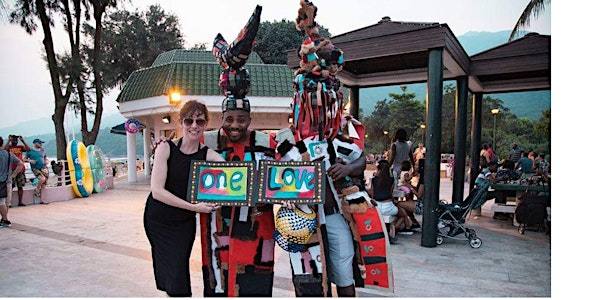 OneLove Party 17&18.12.2022 in Pui O Beach
Two days of non-stop togetherness, improvisation in music and culture appreciation!
When and where
Location
Pui O Beach Pui O Beach Hong Kong, NT Hong Kong
Refund Policy
Contact the organizer to request a refund.
About this event
One Love is about togetherness, regardless the skin color and provision of equal opportunity for everyone. Peace! Unity and Harmony in the society is our goal.
If you missed the registration, but want to join this party, please, don't hesitate to let us know via email to onelovepuiobeachhk @ gmail.com
Tentative schedule:
17.12 3:00 pm OneLove greetings and welcome performance by the Afritude band
4:00 pm - 6:00 pm impromptu performances, beach games and preparation for bonfire
6:00 pm – 8:00 pm bonfire, impromptu dancing and dinner
8:00 pm – 23:00 pm stories by the fire, performances, cocktails and BBQ
17.12 23:00 pm – 18.12 6:00 am gazing at the fire, sea and stars, relaxation
18.12 6:00 am – 8:00 am welcoming the sun and the new day
8:00 am –10:00 am sand castle building, morning performances and breakfast
10:00 am – 1:00 pm music and dance improvisations, beach games
1:00 pm – 3:00 pm visual art improvisations and lunch
3:00 pm – 6:00 pm art works and performances showcase, golden hour photo-shoot and official event closure
A contribution of $100 per adult per day will be collected to cover expenses for equipment, firewood, drinking water, dispensable items and logistics. Preregistration of all participants is required. Money can be paid via Eventbrite or FPS. Children accompanied by preregistered adults attend free of charge. A limited quota of tickets at $150 for 2 days per adult will be available.
Drinking water and ice-cooler boxes for drinks will be provided by the organizers. We encourage participants to bring food and drinks for sharing as potluck, as well as their own sets of reusable cutlery, cups and bowls for reduction of waste. A number of music instruments will be provided by the organizers, we also encourage participants to bring their own instruments and tools for jamming and art performances. There will be a sitting area with mats and a canopy. For overnight stay in the beach, please, bring your own tents and mats, blankets, warm clothes. The venue will include an impromptu stage area for performances, music jamming area, sitting area, food and self-decoration corners. We encourage participants to bring tools for sand castle building and games of their choice.
Food options by LK:
17.12 Dinner (Vegan/Non-Vegan): $100
Menu: (1)Vegan Rice; (2) Vegan Fried Plantain ; (3) Vegan Bean Stew (Africa); (4) Vegan Stir Fry Mix Vegetables; (5) Vegan Lettuce Wrap or Non-vegan Chicken Stew (choose one)
Self service BBQ (charcoal is included in price):
Non-Vegan: (1) Chicken wing $15/2; (2) Chicken skewer $10 each (satay); (3) Beef skewer $10 each - All marinated in a magic sauce by LK
Vegan: (1) Corn $10 each; (2) Portobello mushrooms $10 each; (3) Eggplant $10 each
18.12 Breakfast(Vegan/Non-Vegan): $50
(1) Tea/Coffee ; (2) Vegan Peanut Butter Sandwich or Non-vegan Tuna Sandwich; (3) Fruits
18.12 Lunch(Vegan/Non-Vegan): $100
(1) Vegan Fried Noodles or Vegan Spicy Spaghetti (choose one); (2) Vegan Veggies Bowl with Hummus Dipping; (3) Vegan Vegetables Fritters; (4) Vegan Fried Veggies or Non-vegan Fried Chicken (choose one)
Children under 6 years old get free food if accompanied by paying adults. 7 to 11 years old – half price.