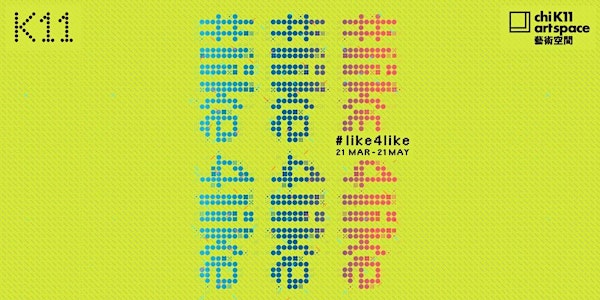 One World Exposition 2.1: #like4like Exhibition
When and where
Location
chi K11 art space, B207 18 Hanoi Rd, Tsim Sha Tsui Hong Kong Hong Kong
Description
#LIKE4LIKE, the joint exhibition by 10 millennial generation artists, is another highlight of K11 ME: MILLENNIALS. A collaboration of K11 with Videotage, the new media exhibition will showcase diversified art forms including 3D animation, kinetic art, video imaging. Some of the artists even channelled art through their own body, displaying trans-disciplinary media power in connection with the millennial conceptual age.
Participating artists include: Carla Chan, Chris Cheung, Tang Kwok Hin, and Morgan Wong from Hong Kong; and Chen Tianzhuo, Chen Wei, Double Fly Art Center, Hu Weiyi, Lu Yang, and Sun Xun from China.
#LIKE4LIKE is an extension of our previous exhibition, One World Exposition 1: Parallel Universe back in 2011. The project originated from an observation of the relationship between the art scenes in mainland China and Hong Kong – despite knowing one another by name, there was little or no communication and exchange between artists from the two areas. Therefore, for the previous exhibition, new media artists from the two areas was "paired up" on purpose. By focusing on the process, the curators hoped that artists from a multitude of disciplines could collaborate in a meaningful way. For the second instalment at K11, the focus is on millennial artists born in the 1980s and 90s.
The exhibition title, "like-for-like", is derived from the popular social media term. The curators Issac Leung and Kyle Chung came up with a curatorial framework with interactive elements and lots of cures to "steal likes". The idea is for the audience to interact with the artists on social media platforms. A multitude of colours are injected into the exhibition, while the public is encouraged to upload photos onto Instagram.