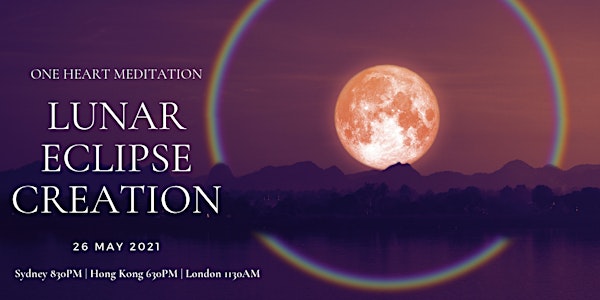 One Heart Meditation: Lunar Eclipse Creation
Transformational lunar eclipse energies to support greater creative flow
Refund Policy
Contact the organiser to request a refund.
About this event
Beloved Hearts,
We invite you to join us in the One Heart during the May Lunar Eclipse as we journey into the Universal realms of Creation. The full moon of May 2021 is a powerful supermoon lunar eclipse portal that brings an influx of transformational energies that supports humanity's spiritual expansion and ascension. This is the second wave of lunar transformational energies since the Wesak full moon of April 2021 that empowers creation for the New Earth, and our journey together in the One Heart will assist you to release the limitations that hold you back from greater creative flow and further empower you as a dynamic co-creator.
We will be joined in the One Heart by the trinity Lords - Metraton, Melchizedek, and Mahatma, as well as joined by the Lunar Mothers and the Mothers of Creation. Participants will receive the Rainbow frequencies of Creation, you will also experience other blessings in the form of dispensations and activations that are tailored for the beloveds coming together in sacred circle.
We encourage you to join the global meditation via livestream, or else receive via the recording after. There is a sacred super-moon eclipse portal of 7 days where you will receive the full benefits during this window. May these transformational energies facilitate a deep opening, and a greater expansion of your creative gifts.
Eternal Love from the One Heart,
Yjemani
In collaboration with the Family of Light
*****
Event Summary
Date: Wednesday, 26th May 2021
Time: Hong Kong 630pm, Sydney 830pm, UK 1130am (1.5 hours), peak of lunar eclipse is at 7:19pm Hong Kong
Energy Exchange: heart donation
Registration: essential via eventbrite
Livestream connection: the livestream link will be sent by eventbrite immediately after registration
Recording: please indicate you would like to receive the recording or else email yvonneyjemani@cosmic-dance.net